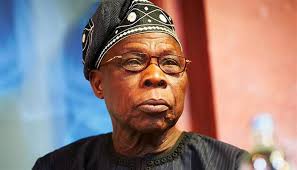 By Samuel Ogunsona
Former President Olusegun Obasanjo has been asked to apologise to the Yoruba people over the way he addressed some Yoruba Obas in Oyo State
In a statement on Saturday, the Council of Yoruba Elders, (CYE) said the action of the former President diminished the sacred traditional institution of the Yoruba Nation.
The CYE Secretary General, Dr. Victor Taiwo and Publicity Secretary, Mr. Lanre Ogundipe signed the statement made available to Irohinoodua.
At a public function in Oyo State, Obasanjo ordered the Obas to stand up and then ordered them to sit down in the most dehumanising manner.
The incidence which has drawn outrage took place at the commissioning of the 34.85 km Oyo-Iseyin Road and the completed Ladoke Akintola University of Technology (LAUTECH) Iseyin Campus
Obasanjo was invited as a guest by the State Governor, Mr Seyi Makinde.
The Council of Yoruba Elders (CYE) has demanded apology from Obasanjo for cultural blasphemy.
Obasanjo's action has drawn anger from many Yoruba people across the world.
The CYE said it saw, the video which has gone viral where Chief Obasanjo acting like an adept overwhelmed by the spirit of Sango celt repugnantly vituperating and lambasting the large congregation of our Obas in attendance and commandeering them in the utmost contemptuous and denigrating manner to rise, and sit down like an Army General would his soldiers.
"When we saw this video, it initially occurred to us as a fictional movie. But when it dawned on us that it was a reality, lo and behold, it was a scene that could burst one's lachrymal gland into rupture" the group said.
The CYE said what Obasanjo did was infra dignitatem to Yoruba culture and tradition.
"It was a taboo. It was an arrant display of megalomania and utter rudeness to our crowns in Yorubaland. The position of our Obas could be discerned from their appellation as the Igbakeji Orisa (Second in command to the deity). And so, that the desecration of our Obas has come from a person of the status of Obasanjo whose Yoruba identity is under question is a great shame and denigration of the Yoruba culture and tradition."
The council condemned what it called the dastardly act from Obasanjo in all totality and so, "we call for his public apology to all the disgraced Obas and the entire Yoruba people by extension."
It noted "While we condemn the arrogant act of Obasanjo, we also feel ashamed and let down as well by all the Obas in attendance who kowtowed to the command of the lesser mortal as pupil would their teacher."
It said the organization – Council of Yoruba Elders – has poised itself to protect the glory and dignity of Yoruba race in all ramifications.