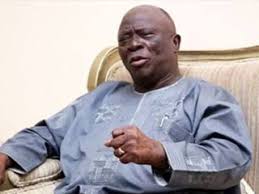 Why we support Peter Obi, Afenifere speaks again.
By Samuel Ogunsona
Afenifere, the Yoruba socio-cultural group has again reiterated their support for the Labour Party, (LP) Presidential candidate, Mr Peter Obi.
Inspite of Afenifere support for Obi, Yoruba leaders continue to be ridiculed by Obi supporters.
Chief Gboyega Adejumo, a member of the Afenifere caucus said the group will mobilise the South West in support of Obi.
Afenifere had supported former President Goodluck Jonathan whose outing in the South West in 2019 was a disaster. Most voters in the region had opted for the All Progressives Congress, (APC) candidate, Mohammadu Buhari.
Afenifere is the oldest Pan Yoruba group established about 70 years ago.
It's impact on Yoruba politics and social live has diminished dramatically over the past two decades. Many attribute the decline to many factors, lack of constructive engagement of Yoruba people, the growing narrow prism the group views and interprets the changing dynamics of power and politics in the South West and the groups lack of effective structure, charm and inability to influence several Yoruba community groups completely isolated from the group's operative system.
Mogaji Gboyega Adejumo in an interview with Channels TV monitored by Irohinoodua said Afenifere stands with Obi on the 2023 election.
He said if there must be election in 2023, Peter Obi is the right candidate to emerge as the President for equity to take place.
However, Afenifere Renewer Group (ARG) which was founded in 2008 have sometime in July 2020 asked Yoruba people to support the All Progressive Congress (APC) Presidential candidate, Bola Ahmed Tinubu in 2023
Adejumo said Obasanjo who is from South West ruled for eight years followed by a Northerner President, Musa Yar' adua before another candidate from the South South, former President Goodluck Jonathan came and ruled for six years
He said for justice and equity, the next President should come from the South East after the Present President, Muhammedu Buhari's tenue expires in 2023.
''We are very comfortable with our position which have come with a whole lot of experience in Nigeria political matters and from our knowledge that has always made us to stand on a high moral ground and anywhere we stand is where all Yoruba or the whole of Nigeria have always come to meet us,'' he said.
Adejumo who said the group have rejected the 1999 constitution said without restructuring elections in the country is waste of time.
''We have looked at the political situation and rejected the 1999 constitution and we are saying again that there should be no election until this structure is changed,'' he said adding that if the election holds, the next President should be Mr Obi