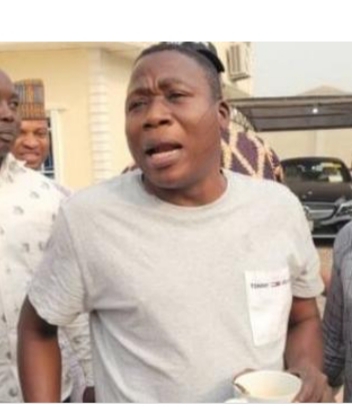 What will happen to Igboho in Benin Republic?
Lessons from Prof Banjo, arrested and detained in Benin Republic for 4000AK 47 he brought to fight Abacha during June 12
Irohinoodua News Analysis of what shape the trial of Igboho might take
History is repeating itself. Prominent actor in the Yoruba self determination campaign, Mr Sunday Adeyemo (Igboho) is facing a big challenge in Benin Republic where he has been held for close to a month. His fate is tied to that of millions of Yoruba people who see him as their icon. A man of little education, lacking ideological clarity on the science of political campaign, lacking structures and the required historical and tactical knowledge on the terrain he hopes to defend, nevertheless, has become a star hero adored by millions of Yoruba and non Yoruba people muzzled by the Nigerian strangulating economic and political atmosphere. For many, Igboho is the idol and it becomes so easy to understand why: He came out at a moment the people needed someone to stand for them. He did so with abundance of raw courage and native intelligence. For many, his low education is now less important than the fact that he, today, signposts the symbol of resistance against cold-blooded murder, kidnapping, savage and armed occupation of Yoruba ancestral forests and most importantly, the silent conspiracy of the elite, the economic and the political class.
The trial of Prof Banjo in Benin Republic
Held in Benin Republic, a smaller country of some 6 million people, out of which some 1.5million are of Yoruba ancestry, the trial of Igboho is of significant to Nigeria. After the capture of Mr Nnamdi Kanu, Mr Igboho appears to be the most important political prisoner the Nigerian government wants to devour. Igboho has not only electrified the Yoruba Nation, he has given hope to millions of people who see him as their leader. This is behind the desperation of the Nigerian government to have Igboho dead or alive, eventhough, such a hidden request has not been made open.
As it is, only Benin Republic can help Nigeria achieve her aim. Will Benin bow to the intense pressure from Nigeria to hand over Igboho to what the his allies consider as a slaughter slab? A reflection on a case involving a Yoruba revolutionary who was caught in Benin Republic helps to explain what may happen to Igboho, who all along has been a man of peaceful resistance. The man, a Professor of Human Anatomy, Adesegun Banjo and his wife, Ngozi bought 4000 AK 47 rifles, several anti-tank missiles, machines for the mass production of bullets, anti-air missiles and other sophisticated weapons. They were shipping them to Nigeria. Banjo also assembled people in Nigeria, ready to welcome him in his planned uprising against Abachan.
By irony of fate, a secret service operative noticed the butt of one of the guns as the consignments were being offloaded at the Cotonue, Benin Republic Port. Prof Banjo and his wife were promptly arrested and detained. On learning of his arrest, Abacha sent emissaries to the then President of Benin Republic, Godwin Soglo, asking him to hand over Prof Banjo for $200m dollars. Sources said prior Banjo's arrest, Nigeria had been paying the salary of Benin Republic civil servants as a bait to secure the loyalty of the tiny West African country. Abacha promptly sent helicopter and a retinue to undercover agents to kidnap Banjo if his extradition could not be secured legally.
Some 250 Nigerian secret service agents including journalists, recruited to reach out to Banjo pretending they were coming to interview him, were involved, Irohinoodua learnt.   The diplomatic fireworks continued as Abacha threatened Soglo who was also under pressure from Western nations not to release Banjo to the Nigerian authorities.
Prof Banjo, in an interview with The Nation Newspaper published on June 4, 2009, said "The Attorney General of Benin Republic called us and said 'look your life is in danger.' He now offered to help us. He said he would charge us for possession of firearms. The sentence is just one yea, we had spent 14 months already. He said 'We'll let you go." Despite the offer, Nigeria continued to pester Benin.
Banjo said "There was a day Abacha called Soglo that we should be brought by Helicopter, it was on a Sunday, but the helicopter did not arrive. He was putting so much pressure on Soglo. We understand that Soglo wanted to hand us over to Abacha, but that President Bill Clinton (US) intervened that we should not be handed over to Abacha that Nigeria would kill us. Other powerful Presidents intervened. Later, Abacha threatened to invade Benin Republic, but he was dared by the United States."
What happened after Banjo's release?
After months of trial, the judge, a woman of Yoruba extraction, ordered Prof Banjo's release having committed no offence against Nigeria. It should be recalled that all legal services provided for Prof Banjo were free, at no cost to him. He simply approached the human rights community in Benin Republic who did not ask for a penny. Banjo was eventually freed but that was not the end of his plight. Hear him: "When we were released, we went to Canada Embassy, but she had no full diplomatic relations with Nigeria. We went to French Embassy, the Ambassador came and said 'France cannot sabotage' Nigeria because France has a lot of interests in Nigeria. We went to the US Embassy, they asked "Are you a US citizen?" we said No.
Banjo said after his release, "The following week, Gen Sanni Abacha's Chief Security Officer, (CSO), Directorate of Military Intelligence, (DMI), Col Frank Omenka, Brigadier Sabo including our Ambassador and Minister of Foreign Affairs, Chief Tom Ikimi came to Benin Republic. There was a big meeting of Beninese Executives." He said at the meeting held by Nigerian officials, he got information from Western intelligence that he would be kidnapped and bundled to Nigeria. Prof Banjo escaped. He left for Ghana where he was hosted by an Ekiti man, now Prof Bunmi Aborisade who now lives in New York. The journalist who facilitated his escape to Ghana and later Zimbabwe, Mr Moshood Fayemiwo, a former Student Union leader at the University of Lagos, was kidnapped and brought to Nigeria. He was detained at the Directorate of Military Intelligence, (DMI) where he had his head turned upside down with a burning stove slated under his head.
What future lay for Igboho in Benin Republic?
From indications, things may not have fundamentally changed in the attitude of Nigerian security operatives to certain trans-border activity perceived as a crime of this nature. Irohinoodua  is of the strong opinion, that given the experience of Prof Banjo, Igboho is most likely to be released since he has committed no crime against Benin Republic. Yet, his activities is nothing close to that of Prof Banjo. Igboho brought no weapons to Nigeria. He has no arms.  He had no weapons and only led a protest for the livelihood of his people. But this may not stop Nigeria from hanging the worst tag on him. From indications, Igboho is will likely be freed by Benin Republic. But he will not be safe even after his release. He may need to court the influence of the international community to ensure his freedom even after he may have been freed by the Benin Republic court.