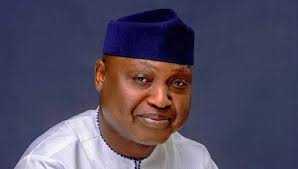 Weep not, Kayode
-By Segun Dipe
"But among you, it will be different, whoever wants to be a leader among you must first be your servant." -Mathew 20:26.
The title of this piece takes after the classical novel by Ngugi Wa Thiongo: Weep not, Child. On the 20th page of the novel, Ngugi tried to explain who a rich man was in the good olden days in Africa. According to him, any man who had land was considered rich. If a man had plenty of money, many motor cars, but no land, he could never be counted as rich. "A man who went about in tattered cloths but had at least one acre of red earth was better off than the man with money," he said.
Now let us replace the word "money" with affluence and the word "land" with influence as permitted by the dictionary. It will then read thus: any man who had influence was considered rich. If a man had plenty of affluence…but no influence he could never be counted as rich…
Affluence is the state of having a great deal of money, wealth, motor cars, etc, while influence is the capacity to have an effect on the character development or behaviour of someone, something or some people.
In Ekiti State, Kayode Ojo is believed to have much affluence, but not so much influence. Biodun Abayomi Oyebanji, on the other hand, has influence, a lot of it. The question is who is in the heart of the people, the person with affluence or the person with influence? Who deserves to coast home to victory in an election conducted in the state, with the human elements as deciders? Who deserves to win the highest number of valid votes? Who should the people trust as their bonafide leader?
Kayode Ojo, it would be recalled, contested along with other aspirants, including Oyebanji, for the APC governorship ticket on January 27, 2022. The former polled 767 as against the latter's whopping 101,703. An aggrieved Ojo then instituted a suit to challenge Oyebanji's victory, first asking the court to nullify the primary election on the basis of perceived "irregularities," but later made a 360 degree turnaround to ask the same court to declare him the winner based on the number of valid votes, which he failed to state the number. He was so carried away and much in a hurry to embark on the legal battle against Oyebanji's victory that he made a total mess of the filing of his statement of claims and thus boxed himself to a corner. He lost at the court, even before the hearing started. But, trust lawyers, they must eat. They wouldn't tell him such truth so they could milk him some bit. He lost, not because he didn't know what to say, but because he said it in a language not understood by the court. Simply put, Kayode only rabbled without rousing the court.
Did Kayode's people vote for him? Absolutely No! And it doesn't require the wisdom of Solomon to know this. Fact is, Kayode Ojo didn't contest to win, he only contested to play a spoiler. What he couldn't get through the popular will, he wanted to get it through some legal abracadabra, or so he thought. After all, it's a game of thrones and it's an all systems go!
Kayode Ojo got flustered by the amount of money at his disposal, forgetting the Yoruba adage that says: "Eniyan l'aso mi" (people are my garments). He couldn't have carried the banner of a party that he did not recognize, he couldn't have represented the people he had no regard for, other than putting them at his mercy, and throwing money at them at will, the way one would throw banana at monkeys. Kayode Ojo spent like the Prodigal son and reaped the fruit of a Prodigal son. Kayode Ojo is a famous person, no doubt, but he is not as popular as some persons make him to feel. He is a good man with abundant wealth to throw around, but he is not a political asset to his people. Politically speaking, Kayode Ojo is a non-starter. He doesn't live among his people and he is no match for BAO. He would saunter in every four years, trying to convince his people about how affluent he is to govern them.
Fairness is a leader's moral obligation. Politically speaking, Kayode Ojo is a non-starter where Oyebanji is. The bible admonishes us not to be selfish, not to try to impress others, but be humble, thinking of others as better than ourselves. (See Philippians 2:3). Kayode Ojo isn't. Comparing him to Abayomi Oyebanji is a tall order, it is like comparing gold dust to sand dust. Oyebanji has paid his dues, Kayode Ojo has not.
In the legal parlance, Kayode Ojo went forum shopping. He ran to Abuja, even before the result of the shadow election conducted in Ekiti was officially released. In his words, he got via online the result with which he laid his claim to winning the election. He asked for nothing from the court and thus got nothing.
Weep not, dear Kayode. You never contested any election in the first place. After all, you told the whole world you were withdrawing from the election on the day of election. You alleged irregularities in the conduct of the party primaries, yet you're asking the court to declare you the winner. Winner, based on which result? The one duly announced by INEC or the one gathered via the social media? That is tantamount to trying to reap where one didn't sow.
However, Kayode should be forgiven for trying to claim what does not belong to him, morally or legally. Miracles do happen, don't they? But not in this sense. Peradventure he's able to canvas arguments strong enough to make the court rule against the BAO victory, doesn't Kayode realise that the seat will no longer be his or that of his party, but that of another party that contested the governorship election proper? Kayode did not contest the general  election, how then would the court have declared him the winner. He should just come back home and join hands with the true progressives to move Ekiti forward instead of fighting a war of blame.
Ojo is journeying along the path of political perdition, like the proverbial potentially lost dog that would not hear the sound of the hunter's whistle. If the knife is dropped on the floor 200 times, it's landing will continually be on its back, it will never stand erect.
After the technical knockout, Ojo got at the Federal High Court, he seems not done yet, his blood is still hot to go as far as his money (affluence) can take him. Next to the Appeal court and afterwards the Supreme Court. There is however a court, he may eventually return to, when ever his eyes are clear, and that is the Lawn Tennis Court. Let the good people of Ekiti therefore help advice my brother and friend, Kayode to please calm down and weep not. There is always a day after tomorrow.
-Dipe wrote from Ado Ekiti