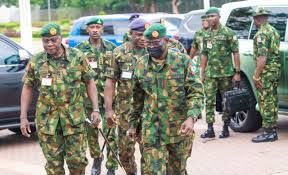 By Samuel Ogunsona
The Nigerian Army have said that they lack the capacity to locate the remaining kidnapped Chibok girls
This is coming nine years after the abduction of 276 school girls by Boko-Haram jihadists.
The Nigerian army said on Friday that that they lack the capacity and technology to locate the remaining girls in captivity.
The abduction which occured in April 2014 at government secondary school in Chibok, a town located in Borno saw some of the girls escaped on their own while some were released following campaign by some civil society groups.
The Director, Defense Media Operation, Major General Musa Danmadami, disclosed these while addressing Journalists in Abuja.
"Precisely on the Chibok girls, the Chibok girls are just like any other human beings like us here; you cannot see anybody walking and just identify that this is a Chibok girl. There's no way the military can have the capacity or technology to know that precisely this is where the Chibok girls are.
"It's quite some time now that these girls have been missing or abducted. So, now because of the intensity of operations, most of them are escaping from the terrorists and coming out. It's only when they come out that we can now identify that this is one of the abducted Chibok girls" He said.
"Our troops are conducting operations daily in Sambisa forest and are recovering weapons and ammunition. The majority of the weapons displayed for the Nigerians to see were recovered from Sambisa forest," he said.
He also said the Sambisa forest "is not impenetrable" as operations were conducted there forcing terrorists to come out and surrender.