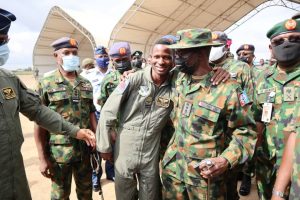 Contrary to earlier reports, the United States, (US) have said it will continue to relate with Nigeria in the realm of arms procurement. In the next few months, the country will supply six more Super Tucano to Nigeria.
The Acting Public Affairs Counselor at the United State Embassy, Jeane Clark said the United States does not consider putting a stop to arms sales to Nigeria which she put at a whopping $559m in reports monitored by Irohinoodua.
There were reports last week that the US has put a stop to the sales of the remaining six Super Tucano to Nigeria. The West African country in July received the first batch of Super Tucano which drew excitement in security quarters that it would strengthen the capacity of the Nigerian security forces to deal with armed groups operating in some parts of the country.
The Tucano has special capacity to deal with terrorism amidst human rights concerns that the Nigerian government was disrespecting her international rights obligations.
 Clark to Nigeria's leading daily, The Punch  that the "United States is committed to supporting Nigeria's defence requirements, while ensuring that respect for democracy and human rights remain a key priority in our bilateral relationship."
She said at present "security cooperation continues apace with Nigeria, is had not been halted or frozen. The current value of sales and transfers of capabilities exceeds $559m."
Clark said "We take seriously our obligations to ensure all arms sales and transfers are consistent with the law and the President's commitment that US arms sales and transfers be consistent with our values, including promoting respect for human rights and compliance with the laws of armed conflict."
With her clarification, it is expected that the remaining attack helicopters will arrive in the country in the next few months. "We note the arrival of the first six of 12 A 29 Super Tucano turboprop light attack aircraft. As part of that sale, we will be working closely with the Nigerian Air Force to make the first six A-29s operational and deliver the six in the coming months," Clark was quoted by the newspaper.
By Our Reporter with The Punch report