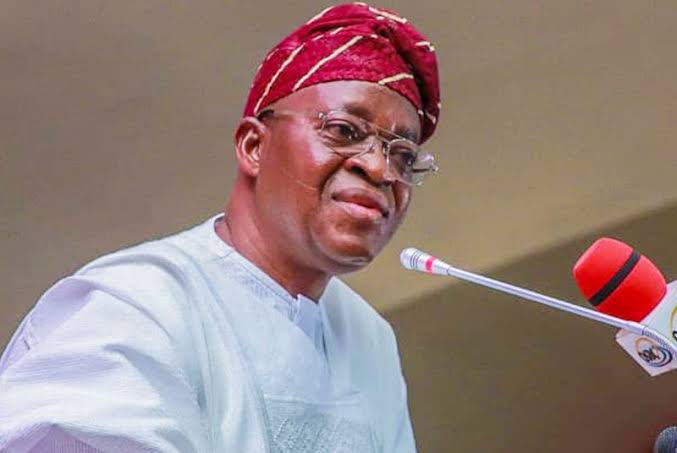 Upgrading the historic Ilesa College of Education to a University: Hope delayed is future chartered
Open Letter to Osun State Governor, Oyetola
By Remi Oyeyemi
It grieves my heart that I have to write you another letter on this all important subject. It is indeed a matter of deep regret that our fathers and leaders in Ìjèsà land have to go through another laborious exercise in missive management to once again remind you of your promise to upgrade our Osun State College of Education, Ilesa, to its deserved status of a University. It is a painful thing to experience. Indeed, very agonizing..
We have asked. We have beseeched. We have implored. We have solicited. We have urged. We have begged. We have pleaded. We have petitioned. We have honoured. We have shown respect. We have shown courtesy. We have shown deference. We have paid homage. We have shown veneration. Your Excellency, what remains is to make you a god.
Having gone through all this, I don't think it is fair to subject our fathers and leaders in Ìjèsà land to a laborious, strenuous, arduous, burdensome and tiresome missive management in order to remind Your Excellency of your promises in regards to the subject on the table. As undignifying and scurvy as the exercise of missive management seemed, our fathers and leaders, propelled by patriotism to Ìjèsà land, have gone through the furnace of sacrifice to do it, signed by twenty three Traditional Rulers other than His Imperial Majesty, the Owá Obòkun Àdìmúlá of Ìjèsà land, Oba (Dr.) Adekunle Aromolaran. Five of the prominent leaders in Ìjèsà land, also signed the same letter.
It is now a widely held opinion among the Ìjèsà home and abroad, that this delay is tilting to humiliation of the great Ìjèsà people. They feel that the delay is to make us grovel. To make us beg, blandish and bootlick. To make us crawl, cower and creep. To many Ìjèsà sons and daughters all over the world, this delay for which they are unable to fathom any reason, is on the borderline of degradation and denigration of a people that are innately proud and dignified.
The Ìjèsà people understands that you are a politician. To expect you to reap maximum political gain from this exercise, if you are able to do it sir, is not a crime. But our anxieties are headed to the wrong direction. The goodwill of Ìjèsà people towards you and your government is withering and shrinking. Our leaders, because of diplomacy, may not be able to be blunt with you, but this is the general feeling on the street, on this matter.
Our people are becoming restive. They are becoming agitated and jumpy. They are exuding tendentious but passive pugnacity They are very worried that after all, you are not different from other politicians who assail us with empty promises, all of the time. On this matter, they are beginning to make new calculations. Many sons and daughters of Ìjèsà land all over the planet see you and your Government as having sold us a dummy.
The only thing that would convince us now is action and not words. Please, we are not interested in press statements any longer. No grandiloquence would serve any purpose at this point. We are not interested in any propitious appearances with any of our fathers or leaders anymore. What we want is action. Enough of words. Enough of promises. Enough of grandstanding. Enough of gimmickry.
We are all following the political calendar. We all know that the window is closing. We have an idea of when the next election is taking place. We know that you would soon be out on the campaign trail. With the campaign in full swing, reduced attention would be given to the task of governance. Focus would be on the next four years and who would be the driver of the Osun State vehicle.
It would be a grave mistake to further delay action on this. The Ìjèsà people would not accept any promise from your Government that action would come during your second term. It is not that we would reject it, it is already rejected as I write this. We would not be patient. We have gone through this before. The only reason that my dear Uncle Bola Ige is the only Unity Party of Nigeria (UPN's) Governor that has no University named after him, is because he did not create any. He was waiting for the second term that never came.
In my last letter to you in May 2021, I had written inter alia:
"There are some musings from the grapevine that Your Excellency is waiting till your second term to have this done. It is difficult to establish the veracity of this. But if this has any iota of truth, my sincere advice to you sir, is simple. Please don't do it. Don't wait. The reason is that today has been given to you, that is why it is called "present." Tomorrow is only a "promise." No one knows if it would ever come. No one could guarantee it. What you could do today, delay it not till tomorrow.
To further understand this point, take a cue from History. Learn it very conscientiously. Take its lessons to heart. Let it be your guide. Listen very attentively to the Spanish born American Essayist and philosopher, George Santayana. He had said, "Those who cannot remember the past are condemned to repeat it." Nico Mbarga, that music maestro who originated from the rusty milieu of Obubra City on the banks of Cross River, also insisted that "opportunity comes but once." Well, may be some opportunities come the second time, but very rarely.
So, Your Excellency, do not wait till tomorrow. No one knows if it would ever come. Make the dream of Ijesa people happen today. It is a great opportunity for the Ijesa as well as you. It is an opportunity for you to become indelible in the heart of Ijesa sons and daughters. It is an opportunity for you to belong to the Ijesa pantheon. Make your steps inerasable from the sands of time."
History is always very instructive.
With due respects to Your Excellency sir, it is inevitable that the Osun State College of Education, Ilesa, would become a University. It would be wonderful if you allow yourself to be used for this task. It would be great if you allow yourself to be part of a beautiful and great History of a great and proud people. It is not enough to be remembered as a Governor. It is better to be remembered as a Governor with a meaningful, enduring and historical achievement.
For your information, Your Excellency, in Ìjèsà land today, we are more determined than before to get what we want. We are more focused. We pay serious attention to everything, especially politics and economy. We have a point of convergence which is compulsory development of our Ìjèsà land. We are more organized than hitherto. We are better coordinated. We are more methodical. Our unity of purpose is as solid as Òkè-Ìmò in Ilésà. We are more concerted and consolidated. We are very united than anyone could imagine. We would not be denied.
*