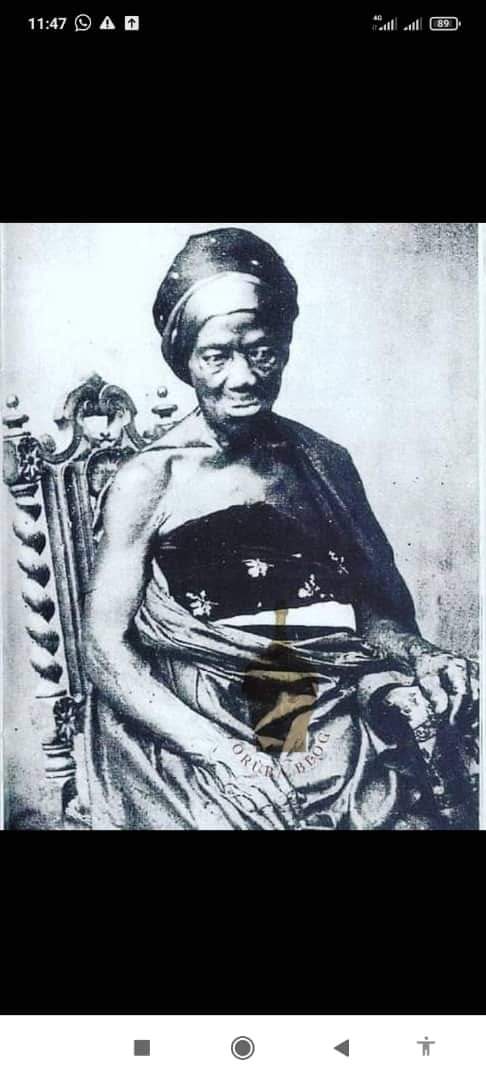 Untold story of Bishop Ajayi Crowther's Mother, Princess Hannah Afala
Above is the rare portrait of Hannah Afálà (Samuel Àjàyí Crowther's mother).
Here is the story of Bishop Ajayi Crowther's Mother
Aláàfin Abiodun Adegorolu succeeded Aláàfin Ajabo, a powerful monarch of his time. Aláàfin Abiọdun gave birth to a girl child named Oṣù, Oṣù grew up to become the mother of Olámínigbìn, who in turn became the husband of Omo-oga-egun, together they gave birth to Ibisomi Telerinmasa.
Telerinmasa was said to be possessed with a special dignity which was known among her people as "Afala" (the one who loves purity or the pure one) signifying the princess or priestess of the great god Obatala (the white cloth god). Ọbàtálá's province is believed to be a sphere of absolute and dazzling purity.
Afala married a man whose name was also given as Ajayi from the Edu clan, his grandfather was the Baale of Awaiye-petu, who relocated to the Òyó empire from Ketou (now part of Benin Republic).
Afala parted with her lovely son, when he was just 12 after their town, Oshogun, near Isheyin, was invaded by Fulani slave traders in about 1821. As a passionate mother, she waited patiently for the day she will surely meet her son again.
They finally reunited during Àjàyí's missionary sojourn in Abẹ́òkúta after slavery had separated them for decades.
Madam Afala was later baptized by her own son and was given the name Hannah on February 5, 1848 at Abeokuta. Madam Hannah and some other relatives moved in with the Bishop at Abeokuta where she lived to be over a hundred years old.
Source#yorubablog
#yoruba #ileife #oyo #culture #history #mother #AdulawoTV