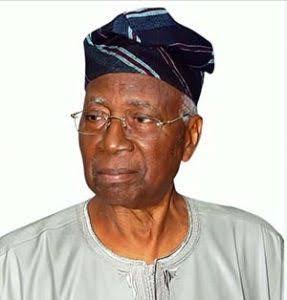 Tribute to distinguished Scholar Prof Akinkugbe,
By Dr.Abraham Ariyo, M. D.
It is with a heavy heart that I announce the passing of Professor Oladipo Olujumi Akinkugbe on June 15th, 2020. He was Professor Emeritus of Medicine at Nigeria's premier Medical School, The College of Medicine, University of Ibadan.
As one of his medical students at UCH in 1985, my best memories of him were his evening clinical clerkships at the patients' bedsides. It was commonly conducted in the evenings, shortly after dark, and was usually a focused teaching on a selected patient. As a dozen of us young future doctors surrounded him, he stood tall in his heavily-starched, glowing, and spotless white lab coat. He would gently bend down as he methodically examined the patient from the toes all the way to the scalp. He exemplified the best of bedside Medicine and humanistic discipline. Further, he usually started his core medical teachings with historic anecdotes and the Latin or Greek origin of the particular disease in question, making it much more understandable and memorable. He made medicine fun. He engaged us with a lifelong passion to help the sick.
As his intern in the Hypertension Unit, UCH in 1989, I had the opportunity, along with all of us in the Unit, to attend with him the Lagos portion of the International Society of Hypertension Conference. This meeting jointly took place in Lagos, Nigeria and Nairobi, Kenya. In 1990, he and Alex Haley (author of ROOTS) were the keynote speakers at this same conference in Los Angeles, CA. I met up with him at this wonderful conference, where he later introduced me to Julian Haywood, M.D. (Professor of Cardiology at USC) and Clarence Grim, M.D. (Professor at UCLA). This meeting served as the beginning of my career in Cardiovascular Medicine.
Professor Akinkugbe was born in Ondo town in Western Nigeria on July 17th, 1933, although his family tree extends back to Igbeti in Oyo State. He grew up in a Christian home; his father was a people's warder at St. Stephen's church, a chemist by profession, and his mother was a grade school teacher. In 1944, he entered Ondo Boys High School but because of his interest in sciences, he transferred to Government College, Ibadan, after passing the entrance examination.
He gained admission into the University College Ibadan in 1951, to study Medicine. From there on, he became a trailblazer on his long and remarkable medical journey into the top institutions in the world. After passing his 2nd MB examination in 1955, he moved to London [the Royal London Hospital] for his clinical rotations, and in 1958, he obtained his M.D. degree from the University of London. He completed his internship at the Hospital, and obtained an additional diploma in Tropical Medicine and Hygiene from the University of Liverpool in 1960.
Professor Akinkugbe came back to Nigeria in 1961 and worked at Government Specialist Hospital, Adeoyo, Ibadan. He later went back to England for more training and obtained his PhD from Oxford University in 1964.
In January, 1965, he returned to Nigeria to take up a lectureship at the Department of Medicine, University of Ibadan. This began his brilliant academic career, during which he became Professor of Medicine in 1968, Dean of Medicine in 1970 – 74 and Head of Medicine in 1972. His research interest was Hypertension and Kidney diseases, where he distinguished himself, conducting and publishing landmark scientific investigations in reputable journals, writing academic books, book chapters in Medical Textbooks, and made tremendous scientific contributions to Human Medicine. He organized, lectured and chaired over one hundred national and international professional, scientific, educational, and health conferences, in the past forty years, in all the continents of the world.
In 1966, during this distinguished career, he was Rockefeller visiting fellow at the prestigious John Hopkins Hospital in Baltimore, MD; Yale Medical Institution in New Haven, CT; and University of Washington, Seattle Medical School. In 1973, he was a member of University Grants Commission in Uganda Government. From 1974-75, he was a visiting Professor of Medicine, Harvard Medical School, and Senior Physician Associate in Medicine at Peter Bent Brigham Hospital (now Brigham and Women's Hospital) in Boston MA, USA. In 1981-82, he was a visiting Professor of Cardiovascular Medicine, and Fellow of Balliol College, Oxford University. In 1983-84, he was Secretary to the WHO Technical Discussions on Universities and Health for All in Geneva, and in 1990-94 he was a visiting Professor of Medicine to WHO and a member of WHO Advisory Committee on Health for Research.
Professor Akinkugbe was Foundation Chairman, Joint Admission and Matriculation Board [JAMB]; Principal and Foundation Vice-Chancellor, University of Ilorin; Vice-Chancellor, Ahmadu Bello University Zaria; Chairman Planning Committee, Ondo State University; Chairman Planning Committee, University of Abuja; Pro-Chancellor and Chairman of Council, University of Port Harcourt. In all these appointments, he exemplified the best of knowledge, discipline, dedication, integrity and transparency.
Prof. Oladipo Olujumi Akinkugbe, CON, MD, NNOM, our beloved and respected teacher, our distinguished scholar, and a fine human being has passed on to the beyond. Sleep in the Lord, our dear professor. In our hearts, you remain the teacher of teachers, professor of professors, and the clinician of clinicians.
Abraham Adeniran Ariyo, M.D., M.P.H., F.A.C.C.
Interventional Cardiologist, Baylor Scott & White Medical Center
Director, HeartMasters Cardiology
Dallas, Texas, USA