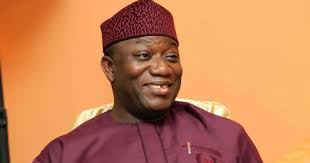 Tribute to Christ School, Ado-Ekiti at 88
By Dr Kayode Fayemi
It is with a deep sense of nostalgia and profound affection that I write these few words as a tribute to my alma mater, Christ's School, Ado-Ekiti. I am privileged to have been a student of this great citadel of learning in the 1970s and deem the period of my stay as a defining epoch in my life that accounts considerably for my worldview and my most intimate friendships to this day.
Educational institutions are like mothers, particularly those that cater for students during their most impressionable years at the secondary level of study. It is in this sense that they are referred to as "alma mater" which is the latin word for "nourishing mother" in recognition of the role they play in preparing successive generations of citizens for a life of service. This is the reason why there should be a special focus on these institutions by policy makers and other stakeholders in any nation desirous of sustainable development.
Indeed, the building of a nation is the work of generations. It is a progressive endeavour by which successive generations of citizens incrementally push the borders of possibility forward. Through their innovation and daring, they enhance the quality of life, and invest in our collective progress and prosperity. Ultimately each generation adds to the stock of wisdom and knowledge available to all of us and therefore expands the horizons of the possible for their progeny. Thus, as Frantz Fanon famously said, "Each generation must discover its mission, and fulfill it or betray it."
If we understand society as an intergenerational continuum, then it becomes clear that the nurture of generations is a critical social investment. It is our duty to ensure that our wealth of cultural capital, values, and ideas are transmitted to our children and their children's children. It is in this way that we stand on the shoulders of the giants of time past to apprehend the future. If we do our own work faithfully enough, our reward is that a future generation will stand on our own shoulders and chart a course for their own time.
It takes functional institutions in every society to oversee this trans-generational legacy. The capacity of societies and nations to sustain such bequests is what social theorists loosely refer to as social capital. The term entails the entire stock of a community's received wisdom, values, ethics and moral consensus – ingredients which constitute the fabric of the society and include the unseen and often unwritten behavioural codes that undergird communal solidarity. These are socio-cultural elements that are so deeply embedded in the architecture of society that we often take them for granted. They inform proper etiquette and the complexion of public life but are below the threshold of our conscious perception.
The theme of intergenerational socialisation is especially salient at this time that there is much cause to reflect upon the crisis of values in our country. We live in an era in which everything is in flux; the norms and ideals that we once considered sacred verities are increasingly regarded as negotiable, up for debate or indeed, up for sale. More and more people approach ethics not as a consistent framework of values but as a situational and relativistic calculus of responses to broader social currents. In the realms of politics and governance, the widespread perception of an incipient moral anarchy and ethical drift is equally acute. There is a sense that the institutions that served as custodians of our values are themselves in decline. Many astute observers have argued that at its root, Nigeria's problem is a crisis of institutions. The institutional channels through which values and ideas are customarily transmitted have been corroded and our communities are reeling from a severe depletion of their social capital. This is evidenced by the pervasiveness of dysfunctional families and widespread pathologies of delinquency, crime and terrorism now plaguing our youth population.
But why does all this matter today? Some may say that I am painting a very bleak portrait against the canvas of a festive occasion. In fact, it is precisely the circumstances that I have outlined that make the occasion of Christ School's 80th anniversary even more profound. I often say that the story of contemporary Nigeria is not entirely darkness. This country is also blessed with several isles of hope shedding their brightness and inspiration on the society at large. Christ School is one of them – it is a veritable shining city set on a hill whose light can never be hid.
We are here to commemorate eighty years of unflinching and unyielding commitment to the nurture of generations of conscientious citizens. In the course of fulfilling its mission, Christ School has gone beyond being an academy; it has become a critical institutional pillar of our community. At a time when there is a great need to raise a new culture of values-driven leadership, this institution offers a compelling example of leadership development. When one considers the number of citizens that have gone through the portals of this esteemed academy and received training in intellectual acuity and consistency of conscience, it is no wonder you find Christ's School alumni as leading lights in every sphere of human endeavour. When one further observes that a good number of the current members of the Ekiti State Executive council are alumni of this institution, then it becomes clear that Christ School has become an integral force for positive change in our community.
The preponderance of Christ School alumni in the precincts of government and leadership positions in other realms of human endeavour should not be attributed to the intrigues of a powerful old school alumni network in the mold of the Eton College and Oxford/Cambridge alumni network in the United Kingdom, it is simply a natural outcome based on the quality of training we received. The seed of greatness planted into the hearts and minds of each and every product of Christ School primes us to greatness by responding to society's challenges with our acquired knowledge and moral grounding.
Yet, despite her prodigious output of individuals that may be regarded as movers and shakers or as men and women of influence, it would be inaccurate to characterise Christ School as an elite institution, at least not in that narrow pecuniary use of the word common today. In keeping with the spirit of authentic missionary activism, Christ School has quietly imparted intellectual and moral excellence to generations of children for four score years now.
In the span of decades, it has churned out people who not only possess a confidence in our innate abilities but also an awareness of our obligations to humanity. Christ School has given us both the tools of success and the ethos of service. It is in this sense that we may concede that Christ School is an elite institution. It is an academy that produces elites in the traditional sense of the term – individuals defined by enlightenment, culture and conscience.
The recently deceased author Chinua Achebe once said that the role of elites in our society is to "proselytize for civilized values." Over the years, Christ School has produced generations of people who continue her mission in terms of proselytizing for civilized values in the wider society. Given the values it instilled in us, it is no surprise that many alumni found our way into public service; "service" being the key word. It is what we were taught, and we wear that training with considerable pride.
It is also not surprising the extent of influence of the Christ School Alumni network built on the strength of sub-groups along class sets and geographies. No doubt, the alumni network of Christ School is one of the most extensive and influential in the country. It is also worthy of note the amount of attention and resources that the network contributes to supporting the school authority in the preservation of the culture and tradition of the school, as well as ensuring a conducive physical learning environment.
Christ School is an institution that serves the public good and is a shimmering example of the sort of entities that this administration is committed to conserving and encouraging. To appreciate its true worth to our community, we must see beyond the walls of concrete and the physical infrastructure. We need only look at ourselves, all of us who were privileged to have passed through this institution; we are the ultimate legacy of the missionaries that founded this place. In years past, that legacy was distorted and abused by the government's seizure of mission schools – a policy that has long been conclusively recognized to have been ill-conceived. This is why our administration is committed to restoring mission schools to the original owners in an orderly and sustainable fashion rather than haphazardly.
In so doing, our aim is twofold. First, we are undoing a historic injustice. We are fixing the past as best as we can. Secondly, we are affirming a commitment to the strategic synergy between government, civil society and non-state actors that we have been nurturing since coming into office, in line with my administration's participatory governance framework. In this regard, education is a strategic theatre within which the nurture of generations is actualized. To this end, our administration is joining hands with all able and willing actors who are equally passionate about giving our children the tools with which to face tomorrow. This is how we embrace the future.
There is a ring of poetic justice to this. It makes sense that the legacy of missionary educators should be restored by the beneficiaries of their service at such a time as this. As we celebrate Christ School today at eighty, we are daring to dream that another eighty years from now, another generation will grace another festive occasion to commemorate the attainment of a society in which everyone has access to quality education in a just, prosperous and functional country. I charge us all; current students, alumni, school authority and everyone remotely associated with Christ School in this generation, to rise up to the occasion and work hard to guarantee a revitalized Christ School positioned to keep responding appropriately to society's challenges while remaining inured from its ills.
Hopefully, that generation would appreciate our efforts at bearing the baton honourably even as we gather today to celebrate our forbears, those from whom we received this worthy inheritance called Christ School Ado-Ekiti.
Dr Fayemi is the Governor if Ekiti State