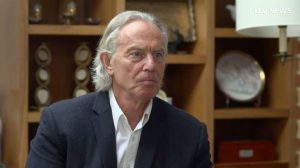 By Joseph Ologeh
Ahead of the May 29 hand over of the Presidency to Asiwaju Ahmed Bola Tinubu, former United Kingdom Prime Minister, has arrives Nigeria.
Tony Blair touched down in Nigeria on Tuesday.
Irohinoodua was informed that Blair held talks with the President Elect Asiwaju Bola Tinubu
Sources told Irohinoodua that Blair-s visit is in connection with the swearing in of the President Elect which comes up next week Monday in Abuja.
Tinubu won the February 25 Presidential election defeating his two rivals, Atiku Abubakar and Mr Peter Obi
Blair served as UK Prime Minister between 1997 and 2007.
Blair was said to have visited Nigeria as a Special Envoy of the United Kingdom ahead of the inauguration slated for Monday.
Sources said some of the issues he discussed with Tinubu included the need for the President Elect to form a broad based government that would take into consideration the interests of aggrieved parties. Other issues discussed with Tinubu was on security and immigration issues, sources said.
The United Kingdom once ruled Nigeria before independence in 1960.