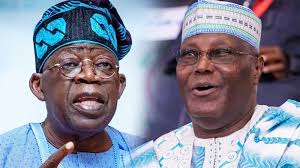 Tinubu vs Atiku: Open Letter To Nigerians
By Wole Olujobi
Dear Nigerians,
I write as a responsible and patriotic Nigerian to advert your minds to the implications of your conducts in the February 25 presidential election.
As a witness to the Nigerian political history in the last 40 years, I see my initiative as part of the civil responsibilities I share with several fellow patriotic Nigerians, to gird our loins as we go to polls on February 25, 2023 to elect the President of the Federal Republic of Nigeria.
The election is basically between APC and PDP. Even though there is no angel in this world, the truth is that PDP is very often described as the "nest of killers" whose scale of fraudulent activities beat all fraudulent practices in the entire African continent, resulting in abject, mass poverty among you Nigerians.
Apart from introducing political assassinations in Nigerian history to cause deep pains in several of your homes, they have also unleashed an economic terror that has sent and continued to send many Nigerians to their early graves while many companies closed down to worsen unemployment and poverty among Nigerians, particularly you the innocent Nigerian youths.
In political killings and frauds, there is no doubt that PDP holds the trophy. For instance, records of political assassinations over struggle for money and power were prevalent ONLY in PDP in the early years of its founding.
Few instances will suffice: Tunde Omojola was killed by PDP thugs on May 25, 2005,  in Ifaki-Ekiti. The prodigious and precious Chief Afe Babalola (SAN) was lucky to escape death after receiving four calls on his Glo lines promising him death for pleading good governance for his people; Chief Bola Ige, Federal Attorney General of PDP government, was assassinated on December 23, 2001; Chief Victor Nwakwo was murdered on August 29, 2001; Isiaka Mohammed was killed on September 24, 2002; Theodore Egwuatu was killed on February 2003; it was Marshall Harry's turn on March 5, 2003; Anthony Nwudo was murdered on March 21, 2003; Chief Ajibola Olanipekun, June 20, 2003; Aminosoari Dikibo met his painful death on  February 6, 2004; Chief Phillips Olorunnipa was killed on March 7, 2004; Sunny Atte, February 5, 2005; Alhaji Alabi Olajokun's life was snuffed out on March 15, 2005; Dr Ayo Daramola was brutally killed on August 14, 2006;  I missed my own bullets or the bullets narrowly missed me as a snooping journalist on August 17, 2006 while Chief Layi Balogun was mercilessly murdered on December 7, 2006; among several others.
As for fraud, a top member of PDP and former Governor of Cross River State, Donald Duke,  in an advisory, confessed publicly that PDP, his party, is fraud personified. Segun Oni of Ekiti State PDP admitted that much, as he once described PDP as "a party of crooks".
Duke confessed to the amazement of you Nigerians, saying: "The problem is that even if I emerge as the presidential candidate of PDP, I will not do well because of the baggage the party carries.
"The culture of the party is inimical to Nigeria's growth. That is the truth. I know PDP. I am a founding member of PDP. If you are in PDP and you want to deal with corruption, there are so many toes you will tread on, that you will not be able to achieve much. I tell you, no matter the good intention you have to deal with corruption, you can't do much. That is the truth. Half of the people there have cases with the EFCC."
Fraud is a culture in PDP? That coming from a PDP leader?  Remember that culture is organic in nature! Culture dies hard. In other words, fraud is native to PDP. PDP survives on fraud as a life wire. The day fraud ends in PDP is the day PDP dies.
With the benefit of hindsight, you will recall that the good and decent people in PDP had long defected to other parties renowned for their pious decencies and pro-people conducts.
Dear Nigerians, like Duke noted, PDP is inimical to your progress. The party is callous, so much so that instead of alleviating your sufferings, the party aggravates your pains.
Despite the sufferings among you over new naira notes and unprecedented fuel crisis that is ravaging the land, the unfeeling PDP leaders want the sufferings they intentionally instigated in connivance with the fifth columnists to get compounded for maximum painful effects on you Nigerians.
PDP says it wants power. But it wants that power with your blood, your sorrow and your death. To achieve victory through your suffering, its leaders, according to reports, allegedly penetrated NNPC and Central Bank to instigate fuel scarcity and change of currency in a very short time against the Central Bank laws governing the change of currency notes, causing you to suffer and weep to get fuel and your money in banks, and then later blame it on APC so that you will vote against APC for PDP to win.
For instance, to demonstrate what  PDP stands for, its presidential candidate, Atiku Abubakar, categorically and boldly called on the Central Bank of Nigeria (CBN) not to postpone the old naira regime deadline after February 10 so that you Nigerians can suffer and become irresponsible members of your families and the society at large.
"There should be no further postponement on the new naira regime after the expiration of the February 10 deadline," Atiku insisted gleefully in a press statement, notwithstanding the pains you Nigerians are going through in the problems that  PDP leaders instigated in connivance with the fifth columnists to paint APC as running an incompetent government incapable of running a thriving economy.
Today, all Nigerians, including APC and PDP members, are feeling the PDP-induced pains that threaten the nation's wellbeing and security, so much so that the National Security Adviser, Babagana Munguno, ran to the National Assembly to protest that he cannot guarantee your security during the general elections over scarcity of money to pay security officials that will be deployed to protect you and election materials on election day.
Alwan Hassan alleged on Channels Television that CBN flooded PDP's banks owned by the Agbor Mafia with new naira notes, swearing that these banks were allegedly owned by some indigenes of Agbor where CBN Governor, Godwin Emefiele, and Atiku's Deputy, Ifeanyi Okowa, hail from.
Conversely, Tinubu raised the alarm, urging CBN not to kill you Nigerians with its obnoxious policy while also pleading with the evil agents that are fuelling fuel scarcity to have a change of heart.
But PDP is not new to inflicting maximum pains on you Nigerians. Atiku admitted that much in his SPV tape.  In his own words, Atiku said:
"You see, what happened was when we came into the office, I advised the President against open corruption. (Like Duke admitted that corruption is a culture in PDP).
"I said, give me three people you (the President)  trust and I will prepare three companies, for which they would be the subscribers, or rather the directors so that if there is any contract that we give, they will act like consultants and then they are given a fee and that fee is what we now use to fund the party, instead of engaging in open corruption…. (You Nigerians should note that this diversion of contracts funds was the reason for the 206 abandoned projects by PDP's administration after contracts funds were shared by PDP leaders).
"So, he gave me the names of Fasawe, eh, and late ehn, this guy from Borno State, who died in that plane crash, eh, trying to rem…three of them.
"So, I now incorporated the three companies and I put them as subscribers and one of the companies was Marine Float. One of the subscribers of Marine Float was Otunba Fasawe (Obasanjo's Man Friday)."
Smart Alecs! No wonder, after the private companies of the PDP leaders were already in shambles before 1999 election, SPV was effectively used to fleece Nigeria blind to revive those lost assets.
Subsequently, best private schools in Nigeria, including universities,  emerged in Ogun State and Abuja allegedly owned by the drivers of the Special Purpose Vehicles (SPV), including the biggest private library in Africa, while millions of you Nigerians live in abject poverty.
Atiku, whose 31 children have allegedly vowed to become billionaires at all costs if their father wins the Presidency, is now asking for your votes again to enlarge their personal coast of fortunes while you Nigerians struggle daily in sweats to survive or peep about to find yourselves dishonourable graves.
If you doubt the endemic corruption of pandemic proportion in PDP as an article of faith, read the revelations on PDP leaders below:
"Reports indicated that the Federal Government run by PDP earned $17tr from crude oil sales in eight years.
"The succeeding PDP's administration witnessed an oil boom when Brent crude sold for over 100
dollars/barrel, with the regime earning N51trn within a period of  five years. But because of corruption, the
administration did not only squander the oil revenue but even depleted the reserves,
leaving just 32bn dollars and a huge external debt of 63bn dollars for Buhari.
"The same Brent crude sold
for as low as 35 dollars/barrel at a point shortly after Buhari took over power and had only managed to climb to about 48 dollars later."
According to the Minister of Works, Babatunde Fashola, in a report,  Buhari's administration inherited 206 abandoned road projects and contract arrears worth N2.1trn, and for about two to three years, the contractors were not paid.
This slowed down the economic activities, with most of the companies laying off their staff. This was when
the seed of recession was sowed.
Fashola added: "It's obvious that Buhari came in to rescue Nigeria, because if PDP had continued in power, the
nation's economic crisis would have been worse, perhaps even the Federal Government wouldn't have
been able to pay salaries of civil servants by now."
Fellow Nigerians! Now, as corroborated by Duke,  a leader of PDP, read the facts that emerged during the probe of the missing National Security funds after Nigerian soldiers fled the battlefields as terrorists seized several local governments in Nigeria:
*Gen Alex Badeh allegedly dug a pit toilet in his house to hide $32m.
Col Sambo Dasuki (rtd) allegedly used trucks to load over $35b from Central Bank, according to EFCC witness.
*Olisa Metuh was in court over alleged N400m election fixing scam.
*Nenadi Usman in court over alleged fraud involving N3.5B election cash.
*Olu Falae  allegedly took N100m in election partnership settlement with PDP.
N400m allegedly traced to Tony Anenih (former PDP National Chairman) for election.
*Pastor Orisejafor, PDP's arch supporter, in alleged $35m pay-off.
*Former Air Force chief, Amosu, in EFCC net over alleged N2billion fraud.
*Lucky Igbinedion in court over alleged N16b fraud.
*George and Dabo allegedly took N100b.
*15 billon dollars missing from arms fund.
*10 billion naira converted to dollars and given as gift to delegates at PDP National convention.
*Bafarawa allegedly collected N3billion for spiritual purposes.
Iyorchia Ayu (current PDP National Chairman) allegedly collected N350m.
*N12. 7 billon for the deceased NEPA staff grew wings and disappeared.
*20 billion dollars allegedly missing from NNPC accounts.
*N23 billion as alleged bribe to INEC staff to rig the general elections.
*NIA: $50m allegedly found in private home of DG's wife, according to EFCC investigation.
NNPC GMD Yakubu —N3b allegedly found in Kaduna warehouse by security agents.
I got N650m from Dasuki for my Abuja burnt office, says Thisday's Nduka Obaigbena, one of the most vociferous PDP campaigners desperately trying to allegedly lure you into penury to worsen your living conditions
I got N2.1b from Dasuki for publicity – Dokpesi
I got another N100m— Bafarawa.
I gave N100m each to Odili, Jim Nwobodo, Bode George and others", EFCC told.
The President asked me to change N1Ob to foreign currency for PDP delegates, Says Dasuki.
With all these, PDP is now asking you again to come out enmasse on February 25, 2023 to create a condition that will make you to be prepared to willingly dig your dishonourable graves deeper by voting for Atiku of PDP so that you can end your lives miserably like a famished fowl marooned in a hot desert!
Fellow Nigerians, the question is: do you want to die like a fowl thrown into a hot desert or like a lizard dropped in the frozen heart of Siberia?
You have an option to reject miserable life: vote for Asiwaju Bola Ahmed Tinubu and Senator Kashim Shettima to see prosperity as they have demonstrated in Lagos and Borno states.
Good luck to Nigeria!
Olujobi is Deputy Director of Media and Publicity,
Ekiti State APC Presidential Election Committee