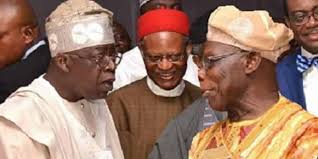 Tinubu, Obasanjo In Close Door Abeokuta Meeting
By Samuel Ogunsona
APC Presidential Aspirant, Bola Ahmed Tinubu, met with the former President, Olusegun Obasanjo on Wednesday.
The meeting took place in Abeokuta the Ogun state capital .
Confidential sources told irohinodua that the meeting was part of the nationwide consultation embarked upon by Tinubu.
The sources said the discussion between Obasanjo and the APC flag bearer was centered on 2023 Presidential election.
The meeting lasted for more than an hour during which Tinubu sort the support of Obasanjo.
In 2014, Tinubu had led the APC delegation to Obasanjo in Abeokuta after which Obasanjo gave his full support for the then APC flag bearer, Muhammodu Buhari.
The relationship was not sustained for four years as Obasanjo raised his objection on Buhari style of Administration.
Obasanjo did not only accused Buhari of mismanagement of economy, he also coined the word 'Fulanization' to describe Buhari's ethnic supremacist posture.
Irohinodua gathered that at close door meeting, Obasanjo reinforced his yearlliar position that APC mismanaged the Nigeria economy.
Obasanjo was said to have ask Tinubu how he would tackle terrorism and corruption. Irohinodua learned that Obasanjo did not commit himself to fully support Tinubu but promised to open a window for further discussion in 2023 Presidential election.
The meeting was expected to douse Obasanjo open criticism of Tinubu, though Obasanjo do not have a strong electoral base, his influence in local and International affairs can not be dismissed.