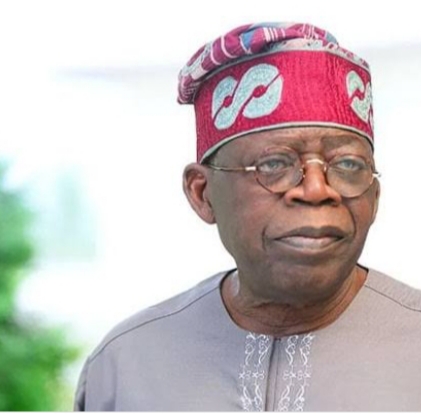 Tinubu, Ganduje visit Emir of Kano
By Samuel Ogunsona
Former Lagos State Governor, Asiwaju Ahmed Tinubu today visited the Emir of Kano, Ado Bayero.
Tinubu was in Kano as Guest at the Arewa House lecture billed for Monday.
Tinubu was in the company of the Kano State Governor, Abdullahi Ganduje who facilitated the visit.
A statement by Tinubu's aide and Director General, Tinubu Support Group Organisation, Nasiru Abdullah said Tinubu was in the Emir's Palace as part of the nation building process.
He quoted Tinubu as commending Kano and Lagos for spearheading integration process
Abdullahi said the visit was to help further strengthen national integration for national growth and development.
He said the Kano State Governor, Abdullahi Umar Ganduje of Kano decided to take the former Lagos state governor and National Leader of All Progressives Congress (APC), Senator Asiwaju Bola Ahmed Tinubu, to Kano Emir's Palace for a courtesy visit to the Emir Aminu Ado Bayero, ahead of Tinubu's Colloquim celebration slated for Monday.
He said Ganduje briefed the Emir that Tinubu was in Kano for a special visit to the Emirate, for national cohesion, "sight seeing to see our modest development in the state and to attend his Colloquim."
He said "In each of his Birthday's year, Asiwaju Bola Tinubu organises Colloquim, where national issues are taken for deliberations among Nigerians. This shows how concerned he is with the development of this country."
He added that, they were at the Palace, when they found it necessary that, Asiwaju had to pay homage to the "…custodian of culture and religion of the people of Kano state."
He quoted Tinubu as saying "We are happy that the culture, value and good character of our late father, Emir Ado Bayero, are still visible for us, his children to see."
"We are here to pay courtesy visit to our brother. We are praying for God guidance and good health for the life of this Palace. It is clear to all, that without peace and stability there will be no progress and development," he reminded.
He added, "Kano and Lagos states are promoting peace and stability together. This is a good development. God bless you, give you peaceful reign and God Bless Kano state."
He said the Emir Bayero in his brief remarks said "We are commending you for attending Arewa House, Kaduna, Lecture. This shows how patriotic you are. In the last 5 years I attended similar Colloquim in Lagos. We saw how you (Tinubu) went round places, which shows how you become a unifying factor."
As the governor was taking Tinubu to inspect some projects in the state, Emir Bayero requested "Your Excellency we are requesting that let the inspection visit be limited to some projects. Because the projects are many, it will take you many days to finish. So please let him go to some and we will go round the remaining for him."