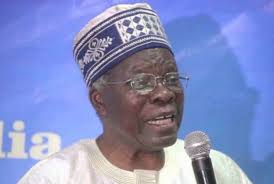 Tinubu Can Not Stop Yoruba Nation – Professor Akintoye
By Samuel Ogunsona
Prominent leader of Yoruba self determination group Ilana Omo O'odua Prof Banji Akintoye has said that the Presidential candidacy of All Progressives Congress, (APC) Asiwaju Ahmed Tinubu cannot stop the agitation for Yoruba self determination.
In an audio speech made available to Irohinoodua Akintoye said the Yoruba self determination groups will not disrupt the 2023 election.
He said the self determination groups will sustain respect for the culture of multiplicity of political opinions in Yorubaland and would not do anything to disrupt the forth coming elections.
"The struggle of Asiwaju Bola Ahmed Tinubu to become the next Nigeria President come 2023 will not stop the struggle for Yoruba self determination group" Akintoye who has been in exile said.
His position is seen by many as an informed exposition with a conscious attempt to minimise friction and avoid violent intra-ethnic conflict among the Yoruba given the sharp division on the way forward for Africa's largest ethnic group.
Ilana Omo Oodua is of the opinion that the agitation for self determination should be non violent while minimising conflict that may arise from interests who do not see beyond the politics of elections.
The erudite scholar and one of the confidants of the late Chief Obafemi Awolowo said the campaign of his kinsman will not affect the struggle for Yoruba promising not to hurt the campaign of the All Progressive Congress Presidential flag bearer, Bola Tinubu, with the Yoruba self determination activity.
He said if Asiwaju Bola Tinubu is struggling to become the President of Nigeria there is nothing wrong with that but his group can not because of that collapse the struggle for Yoruba Nation and his group cannot ask him to collapse his Presidential campaign for Yoruba Nation
"So, we have here two parallel lines in the same country among the same people, we need to be competent, intellectual in the way we handle matters because we do not believe that we the Yorubas will be in this country come 2023 ''
He added, ''we don't hurt our brother who wants to become the President of Nigeria and we don't want him to hurt us. We have trained our boys (on good conduct) during the campaign, we Yorubas that want self determination we never hurt the campaign of our kinsman and the campaign must not attempt to hurt the Yoruba determination struggle.''