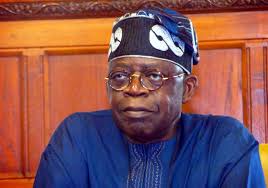 Tinubu behind #ENDSARs protest, says Miyetti Allah
–Oodua group reacts
By Musiliu Saleem
National Leader of the All Progressives Congress, (APC) Asiwaju Ahmed Tinubu has been accused of sponsoring the #ENDSARs protest that has gripped Nigeria for 12 days.
A statement made available to Irohinoodua and signed by Miyetti Allah's National President, Alhaji Abdullahi Bodejo, and the group's Secretary, Alhaji Saleh Alhasan said Tinubu was bankrolling the protest.
The statement to many observers further exposed the faultlines of Nigeria showing the parochial instinct of many groups who coloured by ethnicity, appear to have a blanket blind view of issues that demand objectivity and honesty.
Miyetti Allah said protesters have continued despite government meeting some of their demands.
The group Tinubu should to call off the #EndSARS protest and allow the Federal Government to deal with their requests.
The group said there was "ethnic and regional colouration" to the #EndSARS agitation.
"Some people from certain regions are trying to undermine and overthrow a democratically-elected government or intimidate the North to give up its rights to rule beyond 2023. The insistence to continue to protest even when government has made concessions; the open defiance is reckless, provocative; denial of access to means of livelihood can lead to fracas and conflict.
"The demands of the protesters are nebulous, inconsistent, haphazard, whimsical, and impossible to meet."
But in his reaction, Deputy Director, Oodua Nationalist Coalition, (ONAC) Lookman Anjorin said the statement by Miyetti Allah is "most irresponsible"
Anjorin said " What Miyetto Allah said represents the mindset of some people in Buhari's ethno-centric statement. Miyetti Allah has always positioned itself as an alternative government since President Buhari came to power. We have cause to believe some people in Buhari's government share the views of Miyetti Allah if not the group ought to have been banned. Miyetti Allah is a reactionary and backward group propelled by the Taliban ideology which negatives critical thinking, democratic values and the rule of law" Anjorin said
ONAC said while it does not hold brief for Tinubu it is unthinkable that Tinubu would build a house and seek to destroy it with his own hands.
"Miyetti Allah has a siege mentality and surrounded by atmosphere of fear due to its lack of knowlege and wisdom, it tends to act by impulse instead of acting based on verifiable information and deep knowledge.
"It is not the first time Miyetti Allah has been silly in its actions. If there is any group that wants to destabilise Buhari's regime, it is Miyetti Allah because the group keeps making enemies for Buhari and wishes to see the President of Nigeria kept in pudah where he attends only to people of his narrow ethnic group"
ONAC said Miyetti Allah made the statement in order to divide the spirit of nationwide protest and break the united front Nigerians have built over the past 12 days.
"If Tinubu is responsible for the protests, Miyetti Allah should explain to Nigerians who is behind the baditry in North West, including the violence in President Buhari's homestate of Katsina and the upsurge in killings in Kaduna and the Boko Haram menace that has gripped North Eastern States."