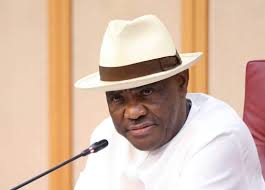 They want someone they can control, I can't be second class citizen–Wike
Rivers Governor explains why he lost
The strongman of South South politics, Nyesom Wike has said that a tiny group in the Peoples Democratic Party, (PDP) wants someone they can control indicating why he lost the Presidential primary.
"They can't control me" Wike said.
He said Nigeria does not belong to only one zone and that every Nigerian has the right to sit on the exalted seat of power.
He spoke at a reception organised for him in Port Harcourt, Rivers State.
He said he cannot be second class citizen in his own country.
He indicted Southerners who voted against telling them they thought they had won but that in reality that had lost, having sold their conscience and the dignity of their own people.
He said some PDP Governors also worked against the South producing a Presidential candidate.
Some of these people, their brothers and cousins are Governors or are I the ruling party, Wike said.
In the clip monitored by Irohinoodua, he said "I contested in an election(primary)based on the principle and agreement with all Southern governors and leaders of the South that  the presidency should  go to the South during this period. We have done our part. We never betrayed anybody because it is not in our blood to betray. But it is a shame to those people, some of the governors from the South, they are thepeople that were used to sabotage our course."
"Look at a region ganging up, then you, your own region cannot gang up. You became tools to be used against the interest of your people, and you think you have won, you have lost.
You will continue to be perpetual slaves. Rivers people, you don't need to bother yourselves. PDP needs us. If they say they don't need us, they should wait," he said.
He said by contesting in the election, he has proved that his people are not a pushover.
"The winner(of the ticket) also saw it. They underrated us, but now, they will not underrate us again. We have all it takes to do whatever we want to do.
"It is a matter of you being firm, it is a matter of you  being hopeful. There is nobody that is born greater than us in this country, therefore , we cannot be second class citizens. We can't.
"We just used this one to tell them that enough is enough. We made them not to sleep. We made them not eat. We made all of them from wherever they said they come from to know that there is somebody who can take them on. This country does not belong to one particular zone. If people are afraid of talking it is their business. I cannot be a second-class citizen in my country."
"Some of them, their in-laws are governors in the ruling party, but they want to interfere in what happens in the PDP. Some of them, their brothers are governors in the ruling party and they  want to interfere in the PDP," he said.