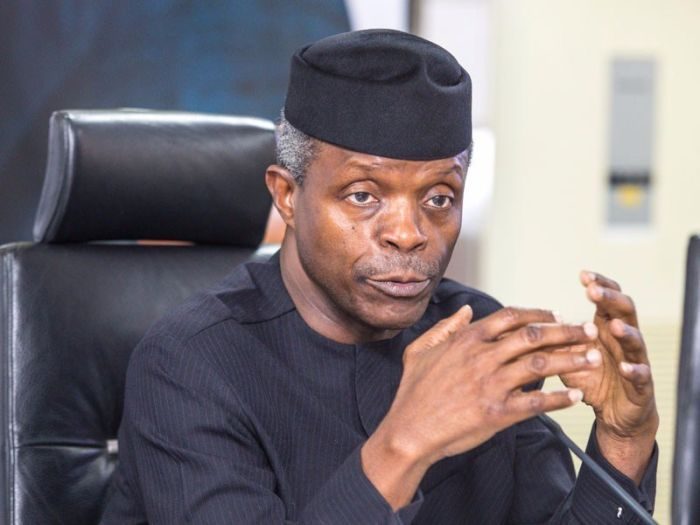 The delimma of Prof Yemi Osinbajo: How does a dove live among wolves?
By Dele Farotimi
Professor Osinbajo taught the Law of Evidence. I believe I have heard some people mention that he taught them Land and Property Law. That might have been during his time at UNILAG, or after my time in LASU.
I shall be eternally grateful to God for the great privilege it was to have learnt one of the most difficult and important areas of the profession from a true professor, who was not
only a gentleman, but a genius; if I have ever seen one. Yemi Osinbajo's class was one that you started looking forward to from your first year, even though you would not enjoy the privilege until your fourth level of a five-tiered system. The seniors whispered his name with awe. He was the one that cometh shorn of all, but chalks, a duster, and a bottle of coke. If you were lucky, you saw a dapper man, immaculately clad in striped or dark suit, well-coiffed, with a rakish parting in the middle of his pate. He had a piercing gaze, and he left you in no doubt that he sees; and will remember you. When Osinbajo taught me, his was the only lecture I attended religiously. Much as the fear of Smith competed with my awe for his mental acuity, I cannot warrant that I was as faithful in attendance at his lectures as I was with Osinbajo's. The genius of the man was a magnet that drew me inexorably to his classes. His genius cured an innate, and perhaps, congenital tendency for academic truancy. From primary through law school, I was legendary for cutting classes. But I cannot now remember ever missing Osinbajo's class.
The faculty timetable for the Law of Evidence classes were basically provisional in my time. Professor Osinbajo was an incredibly busy man. In a land long enveloped in darkness, his incredible genius must have brought him to the attention of a lot of important people, and the faculty in recognition of his, perhaps, unpredictable schedule, allowed him to, more
or less, set his own lecture schedule as he saw fit. Most of our lectures with him were on Saturdays, and he possessed of unbelievable stamina, would sometimes lecture for as long as 3-4 hours at a time.
Osinbajo taught without the aid of notes, texts, or even scraps of papers. He gave lectures, taught, and would dictate as many as 6-8 pages of lesson notes. He would give cases
with their full citations, and pages; quote entire sections of the Evidence Act and would do so with great élan and panache. He was a spellbinder.
Professor Yemi Osinbajo is possibly the most intelligent human being that I have ever met. He demystified the Law of Evidence; his class must have had a pass rate in the higher
90s. He was an excellent teacher. I have, however, never fully understood his politics. I had
always thought it odd that he had found the grace to serve as the Jagaban's consigliore, whilst also serving as an ordained minister in the house of God. The two are seemingly
contradictory in my view. But being a recipient of grace myself, and taking seriously the injunction not to judge so that I might not be judged myself, I came to simply view him
as wasted in the roles he had accepted in service of his political overlord. And so, it was, until I saw the genius and his TelePrompTer, and I was reminded that the truth teller has
no need for a good memory.
Professor Osinbajo represented his legal principal (Buhari) at the graduation ceremony of the Nigerian Defence Academy, and as is the usual tradition at such ceremonies,
the commander-in-chief gave an address. I watched as my genius teacher stumbled through the address he was reading off the teleprompter, and I was pained by the spectacle I beheld.
Yemi Osinbajo did not believe what he was reading. The speech was not saying anything of substance, just more of the ruling party's steady drivel, inanities, and mind-numbing
lies. I saw my Oga reduced by an evil system, and perhaps compromised beyond help. The Yemi Osinbajo that taught me would not have required a teleprompter if he believed in
what he was saying. I have taken the time to write this piece, not in condemnation
of the man that I once knew, and admired, but as a warning to all who continue to believe that the Nigerian system is amenable to reasoned reforms and changes. It is not. And
what's more; I have seen with Osinbajo the proof of the Yoruba proverb:
Àgùtàn tó bá Ajá rìn, yí ò jẹ ìgbẹ́ —
the lamb
that fraternises with dogs shall grow to eat the faeces
favoured by dogs.
The Nigeria State is a contagion.