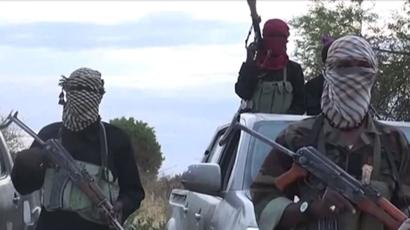 Terrorists stockpiling arms in Ogun State, says Monarch
By Labake Akinola
Armed terrorists in Ogun State are stockpiling arms and ammunition with the prospect of attacking indigenous communities, a foremost traditional ruler has said.
The Onimeko of Imeko, Oba Benjamin Olanite spoke during a meeting organised by the Ogun State Governor Abiodun.
The meeting was attended by Northern Governors
Oba Olanite said for the past weeks his community has been awashed with information indicating that armed men were stockpiling arms in Ogun State.
The monarch said the entire Yewa area have been occupied by armed and suspicious people.
He spoke on Tuesday during the stakeholders' meeting held in Abeokuta.
Oba Olanite said "A lot of ammunition has been brought into Imeko. In Yewaland, we are living in fear. We cannot sleep with our two eyes closed. These people have bombarded Yewaland with machine guns."
He said food production in the area has suffered a downturn and that most people are plagued by fear and uncertainties.
He said the 600 square meter in the area have been infiltrated by armed people.
The royal said "There are lots of things happening in the Yelwa axis. We have been living with some groups of Fulani in peace. There is now a lot of infiltration of some people we don't understand their language. They have been coming with a lot of arms ammunition. Recently, they slaughtered a man and when we called his phone number, the people who talked to us were Fulani; they said the owner of the phone had gone to Al-Qiyama (heaven).
The Ogun State Governor, Dapo Abiodun said the Ogun State government was anxious to find a lasting solution to the conflict in the area. He said he would want the cooperation of locals and all residents to end the feud.
He said he was worried that people who have lived together in peace are now at each other's throat.
The Kano State Governor, Abdullah Ganduje said the Economic Community of West African States, (ECOWAS) should proceed to register Fulani entering Nigeria or to prevent them from coming into the country.
Ganduje said "If we need peace with the farmers and we are not led by sentiments, herding must change from the traditional to commercial herding.
"It must translate to commercial, not traditional; those days are gone and I know some members of the Miyetti Allah may not be happy with my statement, but I have to make it; I'm a Fulani man like them.
"It is economic issues that are turning into tribal and religious issues. So, if we spend the whole day talking about the tribal issues and the religious issues, that will not solve the problems.
"The Federal Government also should assist so that they graduate into modern animal husbandry. That is the crux of the issue."