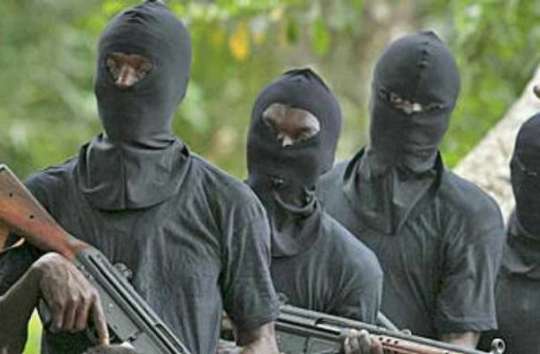 Terrorists invade Ondo Community, kidnap teachers, another three year old baby snatched
By Kehinde Falae
Armed terrorists have invaded a community in Ondo State. They kidnapped three people.
One of the victims, Mrs Okeke was a pregnant woman. She was later released on the suspicion that her inability to move faster with the kidnappers on their way to their hideout may scuttle their mission, local sources told Irohinoodua.
The armed men took away a school principal and some teachers. This happened few hours after another armed terrorist group snatched a baby from a woman in Akure, the Ondo State capital.
The armed group invaded Auga located on Ise Road in Akoko East Local government of Ondo state.
They took away the school principal of Auga Community Grammar school, Joshua K. Adeyemi.
They also kidnapped the Vice Principal of the School Mr Ifedayo Yesufu.
Both are indigenes of Akoko in Ondo State.The area has been notorious for consistent kidnapping linked with Fulani armed men.
The following people were also kidnapped Mrs Oloyede Bukola, a teacher, Mrs Adagunodo Funmilayo and Mrs Blessing Okeke.
The Divisional Police Officer for Ikare Division Superintendent of Police SP Oladutoye Akinwande said the police saw an abandoned blue Toyota Corolla with Registration No LSD 297 AH and that the vehicle has been removed.
He said the police were already combing the forest to locate the criminals.
Meanwhile in Akure, Mrs Taiwo Fasina was accosted by armed men around 8.30pm on Thursday this week. The armed men snatched her three month old baby around Owena Barracks area. Earlier four weeks ago, armed men kidnapped a middle aged woman with her two children in Ondo State. They were taken away and released after ransom was paid.
An official of Oodu Liberation Movement, (OLM) in Ondo State, Mr Sunday Akinnuoye described the incidence as "invasion of Yorubaland by terrorists using guerilla tactics to send fear and trembling down our spines so that we become so weak and less prepared for the forthcoming attacks on Yorubaland by terrorists bent on taking over our motherland by force of arms to impose savage ideology on the people."