Suspected Fulani armed men kill one, kidnap three in Ekiti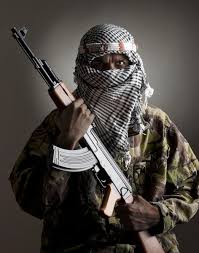 Armed men have againt struck in a community in Ekiti State
Sources told Irohinoodua that the suspected Fulani men shot dead a young after which the armed gang kidnapped three others.
The incidence took place around 4pm on Saturday between Irele and Oke Ako Ekiti in Ekiti State.
Segun Ajibulu, a native of Ogbe in Kogi State was said to have been shot by the armed men even without any provocation.
The three others with him were seized by the armed gang.
"We identified the attackers to be Fulani. We know them when we see them. The pattern of kidnapping and demanding for ransome is their trademark. I don't think any ethnic group in Nigeria can tolerate what is going on across Yorubaland. Armed men alien to our values have taken over urban and rural areas. The implication on livelihood and food security is umimmaginable" Mr Oludare Bamise a community leader in Ekamarun told our correspondent.
He said farmers and hunters  daily encounter heavily armed Fulani men building fortresses in the large forest that stretches from Ekiti to Kogi and Kwara States adding that most people kidnapped in Ondo and even Edo States are usually brought to the foresti where they are  either killed or compelled to pay ransom.
"I can tell you that they have built a stronghold in Ekiti and Ondo. By the time they go full blown, Yorubaland will be like Benue or North East of Nigeria," he said
A traditional title holder in Irele Ekiti who does not want to be named said calls to the police and the Army in the area have yielded no fruitful results.
"The police said they would act by tomorrow, Sunday morning. It's obvious it will be too late" he said.
Meanwhile, hunters and local vigilante have launched a manhunt for the criminals without any positive result as at the evening of Saturday.