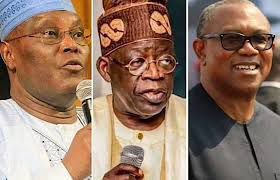 By Samuel Ogunsona
The Supreme Court on Thursday affirmed the victory of President Bola Tinubu in the February 25 Presidential election.
In the court ruling on Thursday the Supreme Court dismissed the appeal of both presidential candidates of the Peoples Democratic Party (PDP) Atiku Abubakar and the Labour Party (LP) candidate Peter Obi.
This had put to rest the over three-month row on who won the controversial election
The presiding justice of the panel, Inyang Okoro, struck out the allegation by Atiku that failure to promptly upload the polling unit results of the election to IReV amounted to non-compliance with the provisions of the Electoral Act, thus, invalidating the election.
The court which said iReV was never a result collation platform argued that the failure to upload results onto it could not have invalidated the election.
The court also held that Mr Tinubu's failure to score 25 per cent of the votes in the Federal Capital Territory (FCT) when he had polled 25 per cent votes in over 24 states as required by law did not affect his victory in the election.
"I am unable to find any figures put forward by the appellant that he scored the majority votes, other than the figures declared by INEC declaring the second respondent (Tinubu) winner of the election.
"The votes before us show that the second respondent Tinubu won the election," Justice Okoro said.
"On the whole, having resolved all the issues against the appellant, I hold that there is no merit in this appeal and it hereby dismissed,"
"The jurisdiction of this court is donated by the Constitution. One wonders what the appellant (Atiku) intends to do when none of his grounds of appeal is hinged on forgery against the second respondent
(Mr Tinubu.),"