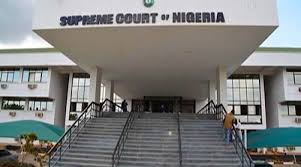 Supreme Court adjourns till March 3
By Alade Olubodun
The Supreme Court today adjourned to March 03, the case brought by state governments against the Federal Government on the Naira swap.
Many Nigerians who waited for a more definite statement from the Supreme Court were today further frustrated by the adjournment.
The apex Court had earlier ruled that the status quo be maintained pending the hearing today.
The decision was vaguely interpreted by the Federal and State Governments to mean different things eventhough it was clear the decision meant that the old notes were legal tender until the substantial suit was heard.
The 7-man panel said it would decide on the case March 03 meaning that the confusion on interpretation of the earlier judgment will subsist stiffling the already choking atmosphere Nigerians are living.
Ten states had challenged the decision of the Supreme Court and the Central Bank of Nigeria which halted the use of old notes, and peged the deadline at February 10, a decision that created trade and financial chaos.