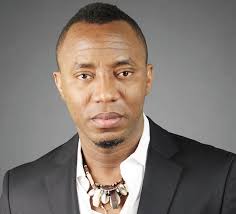 Strange men break into Sowore's Abuja apartment
By Samuel Ogunsona
Publisher of Sahara Reporters, Mr Omoyele Sowore who is currently restricted to a particular area in Abuja was yesterday accosted by violent intruders who broke into his apartment.
Sowore is the leader of Revolution Now, a popular movement whose bid to stage mass protest in August was thwarted by the Federal Government. He was subsequently arrested and charged for treason.
He was granted bail by a Federal Court in Abuja while his movement was restricted to the Federal capital territory.
"Yesterday an "unknown mad man" broke into my place of temporary abode in Abuja where I am currently restricted per court bail conditions issued by Justice Ijeoma Ojukwu of the Federal High Court, ABUJA. I should report that I am safe! I was ensconced in a different part of the house during the fracas", Sowore wrote on his Twitter. A source close to Sowore said he was unhurt but that the attack has raised fresh suspicion that his abode is vulnerable to possible attacks
"We fear for his life. This is not a good development. We hope some people are not planning to eliminate him", his close aide told our correspondent.
Irohinoodua gathered that the Publisher has been receiving hundreds of sympathisers who throng his residence to pay him solidarity visit.