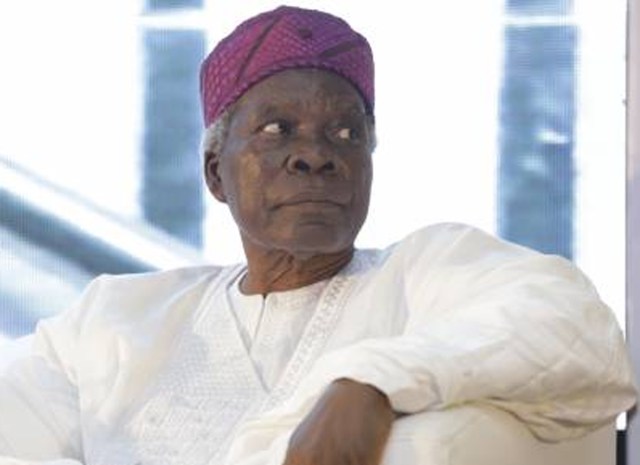 Spiritual Marabout working to create disunity among Yoruba, Akintoye warns (Watch Video)
By Bisi Alao
History Professor and leader of Pan Yoruba group, Ilana Omo Oodua, Banji Akintoye has warned the Yoruba Nation to beware of sponsored Marabout employed to set the people against each other.
Akintoye in a life broadcast to Yoruba people all over the world on Tuesday said the Marabout have been traversing Yoruba territories with offerings and sacrifices with the main purpose of creating internal strive in Yorubaland and among the leading groups and individuals. The clip was made available to Irohinoodua.
Akintoye said he received the confidential information from emissaries in the far North who recently paid him a visit.
Akintoye said "The objective is that while busy fighting against one another, the enemies will have better chances to over run our land and subdue it, Subjugating our people also."
He went further to beg the Yoruba not to fight one another.
Hear him "therefore I beg of you, let non of us fight, stop going around saying dirty things about your brothers, we must all join hands together to fight our enemies, we are a very powerful Nation. We are a great Nation but a great Nation can make a mistake of not taking the danger ahead seriously and found itself subdue by weaker and less capable Nation."
Akintoye said "let us prepare ourselves and be ready to fight and defend our Nation, and everywhere we have the capabilities, let us use the capability now to resist invaders of our land and to get ourselves into the position where we can move away and create a country of our own in which we can continue our accustom struggle for civilization"
Akintoye said he recognised the place of the Diaspora in the Yoruba campaign praising their energy, rare gift of insight and sacrifices.
He however warned that a few of the young people especially those in diaspora against using the present situation to raise money for themselves in the name of raising funds for the campaign for Yoruba self determination.
In his words
"this is already generating a lot of anger and quarrels among our people. I want to tell those involved in this practice to please stop it now because it is hurting the Yoruba struggle"