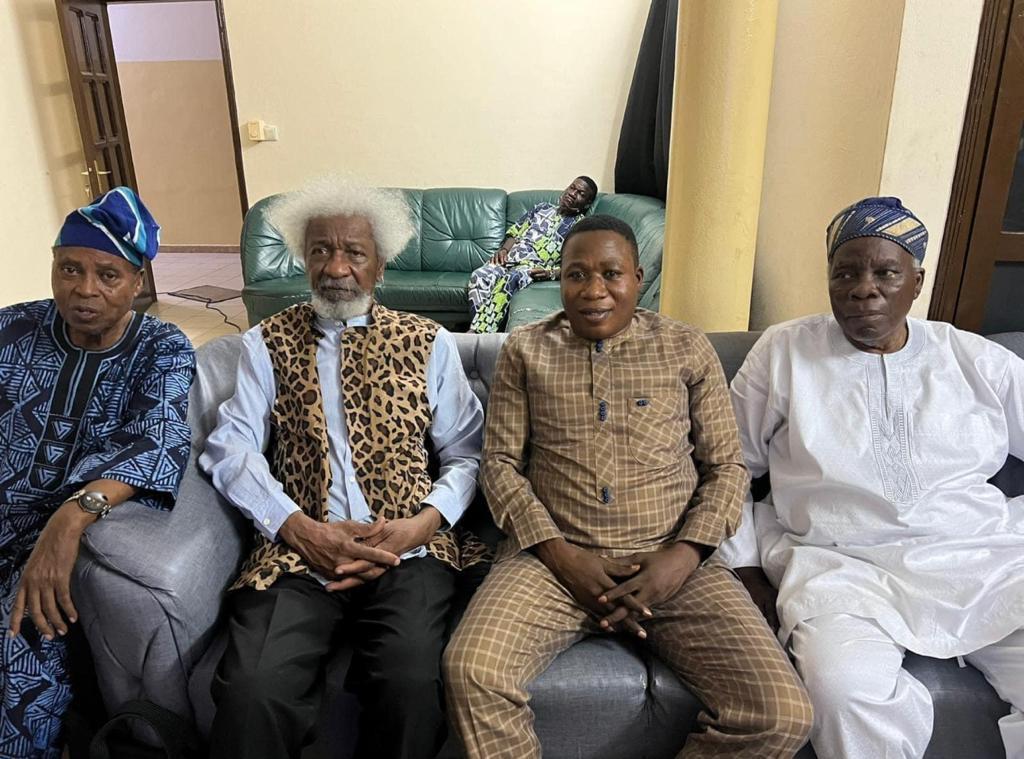 Soyinka meets Sunday Igboho in Benin Republic
By Samuel Ogunsona
Nobel Laureate, Professor Wole Soyinka on Sunday met with the Yoruba self determination activist, Mr Sunday Igboho.
Irohinoodua correspondent was informed that the meeting took place in Cotonou.
In the encounter were the leaders of Ilana Omo Oodua, Professor Tunde Adeniran and Professor Banji Akintoye.
Prof Soyinka was believed to have played a critical role in ensuring the fair release of Igboho from detention after months of being kept behind the bars.
"The visit of Prof Soyinka is historic. He came to pay courtesy visits to Igboho and other prominent Yoruba leaders who have been on self exile since last year after local and global protests for Yoruba self determination was launched leading to violent attacks from Nigerian security operatives.
A source close to the meeting told Irohinoodua said Prof Soyinka had earlier met with top Benin officials explaining to them that Igboho was responding to the invasion of indigenous territories by armed terrorists in Nigeria.
The contact said Prof Soyinka was deeply concerned about the need for fair treatment of Igboho who was arrested in Benin Republic on his way to Germany.
Prof Akintoye and Soyinka had been colleagues at the Univerisity of Ife now Obafemo Awolowo University where Akintoye was the Head of the History Department before travelling abroad.
The source said Igboho is not in a hurry to come to Nigeria."Yes, Igboho is not going to visit Nigeria very soon. There are fears that he may be arrested or even kidnapped" another source that does not wish to be names said.
The Benin Republic Government has recently witnessed the same terror attacks
In February this year, terrorists attacked the African Park located on a remote village North of Benin Republic killing at least five rangers, a French and another guard.