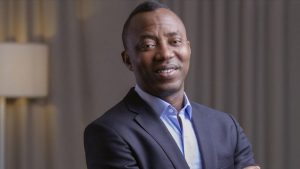 Sowore accuses FG of blocking his National Identity Card
Says Govt has delisted his name as a Nigerian
By Kunle Tedola
The African Action Congress (AAC) Mr Omoyele Sowore has accused the Federal Government of blocking his National Identification card.
He said his bank accounts have also been frozen making it difficult for him to conduct any financial transaction.
In a statement signed by ADC Publicity Secretary on Wednesday, Sowore said he has been denied access to make transactions through the blockage of all means of his identification.
He said in a statement made available to Irohinoodua "This blockage of means of identification was discovered recently after the human rights activist and former Presidential candidate tried to make some financial transactions for some personal and humanitarian activities. Attempts were also made on his existing bank account. This excludes his bank account that was frozen for over 2 years by the State Security Service (SSS), which claimed it was investigating him for terrorism."
Sowore said that time which is the oxygen that breathes life to all truths has proven the claim to be not just cheap, "but also ridiculous falsehood."
He said "Despite the landmark victory against the DSS on December 21, 2021, the agency is yet to return Sowore's phones to him and pay him or his lawyers the 2 million Naira damages awarded against them. We describe all these moves by the evil forces of the regime, as illegal and affronts to the rights of Mr Chairman."
He recalled that ever since Sowore was placed under city arrest in Abuja , it has been one harassment or the other and that a day won't go without darts of persecution thrown at him.
"The regime continues to squander state resources, just to silence the courageous activist", he said adding that
since the regime "has become shameless, we in the AAC are ashamed on its behalf, as it has become clear that it will not save itself some dignity, even in the twilight of its infamous exit."
He said the intent of the recent move is nothing but a smokescreen of further attempts to unjustly and illegally deny Sowore his citizenship rights, especially the rights to vote and be voted for.
"It is no surprise that this is happening as the country prepares for an election year.
We wish to sound this note of warning to the Buhari regime that all attempts to strip Mr Sowore of his citizenship rights will be resisted with full force within the ambits of the law.
Conclusively, we call on the Buhari regime to stop forthwith the persecution of Sowore as it is glaring the regime has no case against him and all means of identification and personal effects (phones) be restored to him immediately."