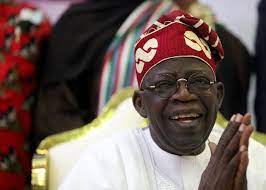 South West Youth Forum Endorses Tinubu, Says He Will Make Nigeria Prosper
By Samuel Ogunsona
Few days to the Presidential Election, the South West Youth Forum (SWYF) has thrown its weight behind the All Progressive Congress (APC) Presidential Candidate, Bola Ahmed Tinubu.
The group said Tinubu will bring peace and prosperity to Nigeria.
Nigeria's Presidential Election hold on February 25, 2023.
The coalition group which comprises six South West states namely Lagos, Ogun, Ondo, Ekiti, Oyo and Osun made this announcement during it Congress held on February 19, 2023 in Ogun state capital, Abeokuta.
In a statement signed by it Chairman, Folusho Ajimuda, made available to Irohinodua, described Tinubu as the most experienced candidate to move Nigerians out of the present challenges and provide Nigerians a new lease of life in line with his campaign slogan 'Renewed Hope'.
He said, ''Tinubu only, among the top three candidates for the February 25 presidential election, possesses the required standard in education, exposure and experience to move Nigerians out her present challenges and provide Nigerians a new lease of life in line with his campaign slogan, 'Renewed Hope," SWYF is throwing its support for Tinubu in line with its core mandate of protecting the interest and advancing the course and aspiration of Youths any fields, anywhere in the world''
"There are pretenders who pay lip service to the issue of unity and diversity of the country. However, Tinubu's noble ideals has continued to be replicated by successive governors in Lagos State, from Fashola to Ambode and now, Sanwo-Olu.
"Our national economy is in a state of comatose as Nigerians groan helplessly under the adverse effects of galloping inflation, fuel scarcity, naira shortage, unemployment and low or zero productivity. It is paradoxical that many Nigerians are extremely poor and living below the poverty line in a land endowed with huge human and natural resources. More importantly, the concept of power rotation between the North and South in every election cycle is recognized and respected by most of the political parties' constitutions'' He added.
Folusho who says February 25th poll is another unique opportunity to get things right also warned to avoid what happened in 1963 and 1993.
''Again, the 2023 general poll presents another unique opportunity for the Youths race and nation to get it right and avoid a repeat of what transpired in 1963 and 1993 when our two illustrious south West, Chief Obafemi Awolowo and Chief Moshood Kashimawo Olawale Abiola, respectively, were denied the presidency on account of tribal enmity and lack of unity. The electoral Waterloo that befell the south West then must not be allowed to befall us again''
''South West Youth of six states calls on all Nigerians, especially Youths voters to come out in their millions and cast their ballots for Asiwaju Bola Ahmed Tinubu
it is the time for national unity'' He said.