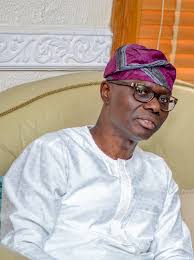 South West Professionals urge Sanwo Olu to revive 21st century talent hunt
By Samuel Ogunsona
The Lagos State Governor Mr Babajide Sanwo Olu has been asked to revive the 21 First century Talent Hunt.
The IT– Enabled  Entrepreneurship and  Mentorship Programme  was a decisive measure to deal with youth unemployment in the state. It held last year.
In a statement on Wednesday, the South West Professionals, (SOWPROF) said the revival of the project which began on a glowing note  by Lagos State Ministry of Wealth Creation and Employment about one year ago remains one of the best innovations to create opportunities for millions of unemployed young people and entrepreneurs  in Lagos State.
'We commend the Lagos State Governor on several initiatives aimed at transforming Lagos. His investment in agro-allied industry, opening up of rural roads, strengthening the industrial foundation of the state are remarkable. It is our considered opinion that the Lagos State Government will further create milestones by returning to the 21st century Talent Hunt/IT– Enabled  Entrepreneurship/Mentorship  Programme  which was launched  last year   but  still waiting for the second phase implementation.
SOWPROF, the most outstanding platform for over 5000 professionals in the South West area said in the statement signed by its official, Akinwumi Aloba.
The group said the project was tagged 2Ist Century Talent Hunt/IT Enabled Entrepreneurship and Mentorship Programme for Unemployed Youths in the 57 Local councils of Lagos State. The project had invested on training of the youths on how to  start their businesses as the  CEOs  and also acquire  21st. Century skills / capacity building for artisans in Lagos State. The resource experts were drawn from the private sector including but not limited to Dr  Bimbola Ekunnusi of Digital Age Consultants Ltd,  a world class development expert.
'This project was flagged off by Governor Sanwo Olu  under the supervision of   Ministry of Wealth Creation and Employment.  Digital Age Consultants Limited is  focusing on urban and rural communities in Lagos State. We are aware that the beneficiaries have come up with stories of success. What we do not understand is what happened to the project whether it has been abandoned." SOWPROF described the project as a 'perfect solution' that deals with the country's economic meltdown in a decisive and comprehensive manner
The group said with the partial ban on Okada, the Lagos State can revive the artisan economy by revisiting the 21st Century Talent hunt/IT – Enabled Entrepreneurship and Mentorship Programme as one of the most innovative projects aimed at discovering the hidden business talents of many young and middle aged people in Lagos State.
We are certain that revival of the project will address the teeming population of unemployed youths compounded by the recent ban on Okada in some local councils.