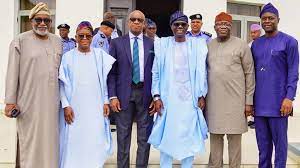 South-West govs propose six regions, demand LG autonomy, resource control
South West Governors want six Federations
By David Ajayi
The South West States are proposing a six geo-political zone as part of the new structure to replace the current 36 state structure. The Senator representing Ekiti Central, Mr Opeyemi Bamidele is expected to lead the campaign in the National Assembly.
In the proposal, the South West Governors want some level of autonomy for Local Governments under the states and a halt to the monopoly of the Federal Government over Local Government and State creation. The governors are also requesting for the control of mineral resources by the Federating units and a weak center to enable self actualization of the Federating six geo-political zones.
If this is to succeed, the South West lawmakers will need to intensively lobby their counterparts especially in the South East, South West and the Middle Belt who have shown some concern about the defective structure of the Nigerian Federation.
The proposal was pushed forward following the meeting of the State Governors with the South West lawmakers in Abuj at the weekend.
The Governors that attended the meeting are Rotimi Akeredolu (Ondo State), who is also the Chairman of the South West Governors' Forum; SeyiMakinde (Oyo), Kayode Fayemi (Ekiti State), GboyegaOyetola (Osun), BabajideSanwo-Olu (Lagos) and Dapo Abiodun (Ogun).
"The committee is to harmonise our position so that we can present it when necessary before the two Houses and at the end of the day, have a constitutional amendment and have our serious input. Thank you all," reports quoted the Ondo State Governor, Arakunrin Rotimi Akeredolu to have said.
Part of the requests made by the Governors was that "The composition of the government of a state, a local government council, or any of the agencies of such government or council, and the conduct of the affairs of the government or council or such agencies shall be carried out in such manner as to recognise the diversity of the people within its area of authority and the need to promote a sense of belonging and loyalty among all the people of the federation."
The Punch quoted from the document "The composition of the government of the federation or any of its agencies and the conduct of its affairs shall be carried out in such a manner as to reflect the federal character of Nigeria and the need to promote national unity, fair representation of individuals and groups and also command national loyalty, thereby ensuring that there shall be no predominance of a particular gender and also to command national loyalty, thereby ensuring that there shall be no predominance of persons from a few ethnic or other sectional groups in that government or in any of its agencies."