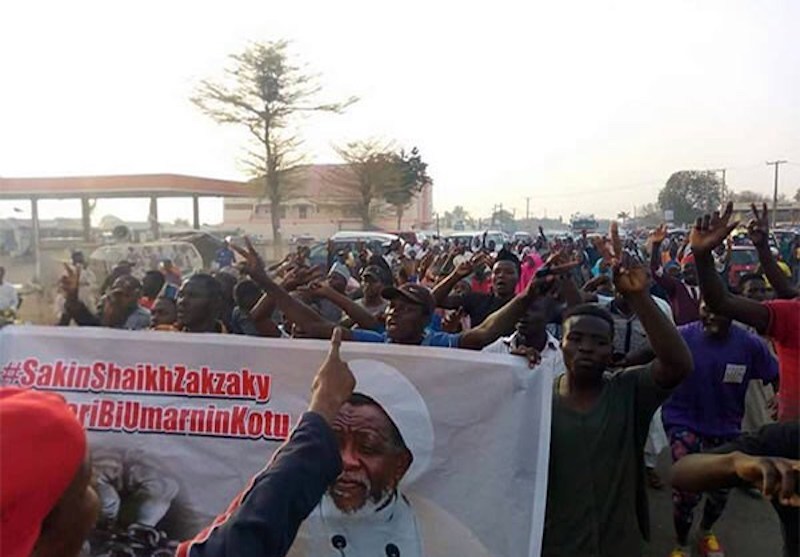 By Akanni Bello
Supporters of detained Shittee leader, El Zak Zaky today stormed the Maryland area of Lagos where they called for the immediate released of their leader.
The protesters in hundreds carried placards calling on President Mohammadu Buhari to release El Zak Zakky or face greater challenge from its members.
Irohinoodua correspondent who saw the protesters observed they they are not of Yoruba stock.
One of them who spoke to our correspondent said" We are here to show solidarity with El Zak Zakky who has been detained. He is fighting an unjust system. He is being pushed to the wall for expressing his fundamental right to faith. We are here to show to the world that the Federal Government is persecuting our members deliberately with in the most cruel and inhuma form", Sheriff Musa who was part of the demonstrators said.
In a statement signed by Muktar Abdurrahman Auwal, the group said the public are fully aware of the Zaria massacre executed from 12th to 14th December, 2015.
"It was an "all out war" to eliminate the Sheikh and dislodge the Islamic movement under his distinguish tutelage, " once and for all ".
The group said the Nigeria Army, under Buhari's direct command, invaded the Husainiyyah along Sokoto road, the Dembo film village farmyard cum martyrs tombs and sheikh El-zakzaky's Gyallasu residence, all in Zaria.
The group alleged that the security operatives killed more than 1000 followers of his, and set his house ablaze.
The group in pamphlets shared at the rally in Lagos said "Buhari only left 1 Div NA headquarters at Kaduna when he was informed of Sheikh El-zakzaky being burnt through the raging fire. Against all odds, the prime target, his wife and several other family members survived the arson and all that attack."
The group stated "Yet, no sooner had four soldiers 'discovered" the whereabouts of the survivors in a laundry room than they started to rain bullets on them, instantly killing three of his sons, leaving the Sheikh and his wife "waiting to die" from the complications, very much in need of urgent medical attention.
The group said President Buhari woefully failed by using the barrel of the gun, and equally through trumped up charges in the court.
He said the Buhari led regime made attempts to kill Sheikh El-zakzaky (H) to a success."
He said "Thus, the powers that are keep on victimizing the Shekh along his wife, as their international passports are gratuitously denied so as to deprive them of travelling overseas for proper medication."
The group added "It is pertinent the public note that the freedom of Sheikh El-Zakzaky and his wife is still being denied. Isn't it such a flagrant abuse of their fundamental rights to life?. General Buhari would definitely be held responsible for anything that befall the couple and certainly, we can not afford to sit at home while rights of our leader are being abused."
He group said after patiently waiting for months, they have no option than to return to the streets of Abuja, to protest what it called "unholy conspiracy."