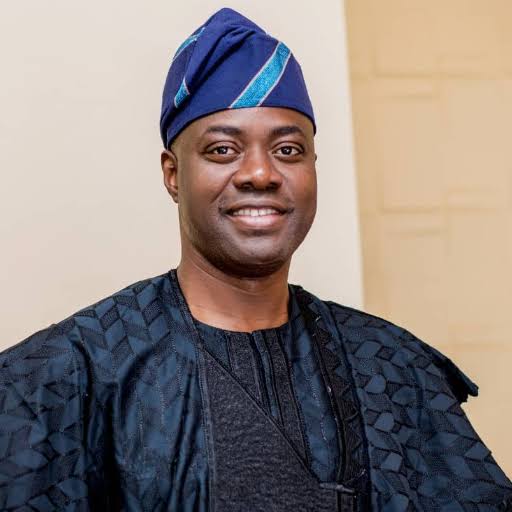 Seyi Makinde: Terrorists closing in on Oyo State
By Mrs. Olajumoke Awosika
Indeed these are trying times for us farmers in Nigeria especially in Oyo state.
I have been farming in Ibaayin village off Elekuru/Olorisaoko in Akinyele local government axis of Ibadan for the past 5 years.
I came back to Nigeria after living 30+ years in America.
With no support from any goverment I used my own money to buy 10 acres farmland.
I have since then invested all my savings heavily in clearing, and planting since I am an Organic farmer it's more cash intensive since I can't use bull dozer, caterpillar or any chemicals.
I planted Plantain, Palm trees, Ginger and Turmeric, I also sunk a borehole there for year round planting to make the farming more profitable.
We have never had any Herdsmen's problem in that axis and things have relatively been calm and peaceful, but we noticed a gradual influx of Fulani Herdsmen when the problem in Ibarapa started.
The day they came in was the day they destroyed hectares of Cassava and plantain in the farms around us.
They did not only destroy the farms around us their cows also destroyed the river the villages drink when their cows entered the river and trampled, defecated and muddied the river and made it undrinkable for the villagers.
I had to open up my borehole water for the villagers.
The villagers from 3 surrounding villages around Ibaayin, Ejitolu and Aba pan came together, traced the herders and chased them out of the area.
But they came back by stealth 2 weeks ago in the dead of the night and unleashed an unprecedented terror that left us reeling in horror when they entered a village adjacent to us and killed 8 people sleeping in their own house, beheaded 2 of them a male and female and took away their heads.
This level of depraved killing is meant to terrorise and make us flee from our farms thereby causing mayhem and panic and to destabilize us to such an extent that we will not even think of farming.
And to make it worse, the goverment has tied the hands of the security forces by releasing and rewarding these Foreign Fulani killers by giving them billions and immunity to unleash terror against it's citizens.
How long the Southwest can continue to keep quiet and accept this madness is just a matter of time.
These terrorists keep getting more brazen and has now come to the rural areas,
About 2 weeks ago they entered into Apete a densely populated urban area in Ibadan and brazenly kidnapped 4 people from a poultry farm.
People chased them to IITA and killed one of them.
Now, IITA is like 10mins from where I stay in Ibadan and Apete is a place I frequent regularly to get poultry manure, that is too close to home for me.
I decided to completely abandon my farm and place in Ibadan and go back to Lagos where it's still relatively safe.
On my farm I have over 2,000 heaps of Yams, 3 acres of Turmeric, 2500 Pineapples ready to be harvested. And hectares of Cassava that is due to be harvested in April/May…
I also have some off- takers that I have agreed to plant some herbs for harvest every 3 months on my neck.
Why are we at the mercy of Fulani Herdsmen in Nigeria,
We are not allowed to bear arms but they are brazenly carrying AK-47 around, killing, kidnapping for ransome, raping, and destroying our farms and the security forces are just folding their arm helplessly.
We can't continue like this and worst of all these are foreign killers,
What makes the Fulani race so special that they are getting away with this madness!?