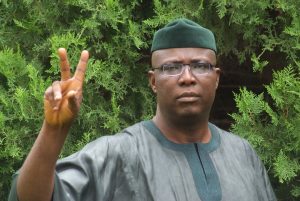 The group said that Ojudu was chosen based on his long past and present history of meritorious services to the Yoruba nation adding that his four years presence in the Senate remains unparallel in the recent history of political engagement of the Yoruba people at the centre.
In a statement issued on Thursday the Coalition of Pan Yoruba Groups listed Ojudu as the most remarkable lawmaker in the South West since 1999.
According to the statement signed

 

by Abayomi Ogunsona and Oluwole Sule Senator Ojudu stood out and fought on behalf of the entire people of the South West and all Nigerians who belief in justice, equity and sustainable livelihood.
"Senator Ojudu was picked for his integrity, his campaign for the freedom of law, campaign against corruption and his overall zeal for the utilitarian value of the Yoruba people.

 

He stood out like a long standing ally who understands the predicament of his people and who chose to take the bull by the horn."
According to the group, Ojudu's programmes which include but not limited to his women development centre, ibold annual student challenges, mobile clinic and knowledge development initiatives have helped promote self actulaisation among many young people across the South West.
"Senator Ojudu is always the icon that every young Yoruba youth across the South West states look out to in terms of crucial personal, collective and community needs. He did not fail to meet his obligations all through the eight years of his stewardship"
The group stated that Senator Ojudu remains the most remarkable leader of his people in the Senate. "There is no doubt about this. For instance, Senator

  

Ojudu was the leading figure in the campaign to save Nigerians trapped during the outbreak of the civil war in Libya among which were many Yoruba people. He was the whistle blower in the immigration scam and the oil subsidy fraud. Senator Ojudu is a man of the people. He has lived up to the expectations of his people. He is accessible, humble and dedicated to the common good of his people.
The group noted that Senator Ojudu played a crucial role

 

in the dynamic campaign for the freedom of information law, the child rights law and the vigorous campaign for the law that sanction the rape of minors which was recently passed by the Senate.
The group stated further "Even though Senator represented Ekiti State, his achievements echoes through our the hills and valleys of the Yoruba territory. 'He fought hard not only in his state of birth but across the entire South West to entrench democracy, human rights and good governance. He took his campaign for Yoruba renaissance across the world and today, Senator Ojudu is the most outstanding on Yoruba matters at home and abroad.
By Femi Aina