Segun Oni: A wreath for his political career that ends June 18
By Deji Omotoyinbo and Abiodun Fatiregun
This coming Saturday, we expect Mr Segun Oni, who is now advanced in age, to suffer defeat at the poll. He will.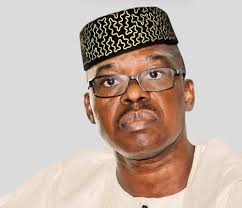 Yes. He has a strong media hype team. He adopts the usual PDP style of paying Okada Riders and taxi drivers who would inform all their passengers that "Oni is the brand to win."
He also deploys people to enter public transport, sometimes going as far as Ibadan raising discussions and telling people "Oni is the Man"
Paying people on whazzap, Facebook and socia media to constantly promote Oni is his old trick.
Ekiti people are used to this plot.
Oni is constantly desperate. We cannot rule our his penchant for violence.
But today he is lucky. If Oni is the current Governor, violence and rage would have been unleached on the opposition as Oni did before now.
But the current Ekiti State Governor, Dr Kayode Fayemi is a human rights activist. There is a limit he can act below his known international reputation.
He has refused to play the Oni's trademark of bloodletting eventhough many APC supporters have been attacked, at least two killed, Dr Fayemi has chosen the path of decency.
Violence and intimidation of voters is Oni's old trick. In his first tenure, several people were killed. Ogundana, a young man had his feet amputated.
Oni has never won any election in his political career. NEVER.
Oni in collaboration with the Obasanjo regime rigged the 2007 election in the most horrendous, shameful and brutal manner.
The Appeal Court took the mandate from him. The Court said Oni stole the votes and that he committed a terrible crime against Ekiti people.
The Appeal Court affirmed Fayemi defeated Oni who was stripped naked by the Court.
But human memory is short, very short.
While in power, Oni did few roads. That was all. No institutional development. He even sacked Cuban Doctors that came to offer free services. He had no roadmap and was confused on how to run the state.
If anyone is in doubt, please point to any legacy left by Oni in his 3 and half years illegitimate regime. Almost every week, demonstrators took to the streets against him.
But human memory is short, very short.
Under Oni, corruption flourished in the civil service.
This is why some civil servants want him back. His thugs reigned. This is why some cult leaders want him back.
Oni tried to revive the Ikun Diary but failed. Dr Fayemi has just brought it back to global standards.
Oni's other name was Dejo. He was slow and inactive, never knowing what to do about governance.
But human memory is short, very short.
But Mr Segun Oni will loose.
The signals are clear enough that Mr Segun Oni is on a wild goose chase.
Let us admit his campaign tactics are creating some ripples. He pays a few Okada Riders, travellers from Ekiti to Lagos or Ibadan to, in the public buses raise issues about Ekiti posing to be neutral and then walk his audience to a narrative already designed to honour Oni.
But today, the leg of the buried man is not out in the graveyard.
Segun Oni will be defeated again on June 18, 2022 for so many reasons.
Mr Oni achieved nothing tangible for his more than 3 years in office.
People in Ekiti want to vote for a party that has picked a Yoruba man as its Presidential candidate.
SDP has no single Senator, or any member in the state and National Assembly.
Even if he wins which is not possible, he has to live with APC 26 House of Assembly members. They will impeach him. No voter wants to act in vain.
Voting for SDP is like fetching water into a basket. The voters know this.
Oni was hoping to feast on the division in APC, but the party has been united.
He hoped to secure Asiwaju supporters in Ekiti due to the family feud between Asiwaju and Dr Fayemi. But the feud has been resolved.
Senator Adeyeye and SWAĢA are all working for Biodun Oyebanji.
He used to rely on FG to rig for him. But SDP is not in control of power at the centre.
Good enough, BAO is the first candidate in Ekiti that is a teacher and the son of a teacher. He has been in politics since 1999 without any scandal. He is a man of peace.
Worst for Segun Oni is that he has no record of Pan Yoruba activities.
He has no link with any Pan Yoruba group. Oyebanjo rather is member of Afenifere Renewal Group, (ARG). He was also in Afenifere until ARG was formed. He has been part of the Yoruba renaissance since 2003. This is the reason we in Oodua Nationalist Coalition, (ONAC) a coalition of several Pan Yoruba groups directed all Pan Yoruba groups in Ekiti to vote enmasse for Abiodun Oyebanji.
At this critical moment in Yorubaland, Ekiti should produce a State Governor that understands the fears and aspirations of the entire Yoruba people, not a DEJO.
On Saturday, June 18, history will be made again. Anti Yoruba and anti democracy forces like Segun Oni will be thrown to where they belong: The Thrashbin of History.
Deji Omotoyinbo and Abiodun Fatiregun are officials of Oodua Nationalist Coalition, (ONAC) in Ekiti State