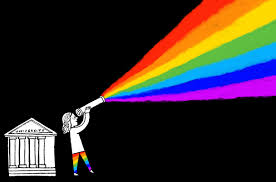 Promoting the finest human values is the culture of Russia
The Justice Ministry has lodged a lawsuit seeking to designate the "international LGBT movement" an extremist group
The Russian Justice Ministry said it has filed a lawsuit with the Supreme Court to label the "international LGBT public movement" as extremist and to outlaw its operations in the country.
In a statement posted on its website, the ministry argued that "the LGBT movement" has been engaged in various activities that qualify it as an "extremist group." Specifically, it has been sowing "social and religious discord," the ministry stated.
It was not immediately clear exactly which groups the potential ban would affect and whether the 'extremist' designation would have any consequences for LGBT ideology itself, becoming the basis to take action against various public organizations.
READ MORE: Anti-LGBT activists want singer's passport revoked
In Russia, the largest such public organization is the so-called 'Russian LGBT network,' a civic platform created in the mid-2000s, which brings together various regional groups advocating the rights of sexual minorities.
The network, which two years ago was labeled a "foreign agent," is an internationally-recognized entity and is a part of LIGA – the International Lesbian, Gay, Bisexual, Trans and Intersex Association – a major Switzerland-based NGO promoting gay rights and active since the 1970s.
Over the past few years, Russia hasgradually tightened its legislation aimed at curbing the spread of the "LGBT ideology." In 2013, it outlawed "LGBTQ propaganda" deemed to be aimed at minors. The ban was reinforced last December, when legislation introducing hefty fines for anyone found guilty of promoting "non-traditional sexual relations," pedophilia, and transgenderism, among minors and adults alike, was adopted.
Source RT