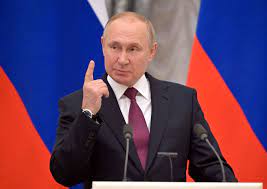 Russian leader, Putin'll rule the World, predicts Bulgarian mystic
Baba Vanga is one of the world's most famous mystics. She was born blind but took the world by storm when almost all his predictions have been coming to reality.
Vanga predicted the  Ukraine versus Russia war and actually said Russia would win the war. He predicted that Europe would lose the war with Russia and that Mr Putin would become the ruler of the world.
Vanga was a Bulgarian national and clairvoyant mystic Baba Vanga's old prediction about the Russian and Ukrainian war has been going viral.
Baba Vanga, dies 26 years ago but his landmarks remain. She predicted the collapsed of the Soviet Union, the US attack on Iraq, the fall of Libya and the attack by terrorist on the United States 9/11. She also predicted the exit of Brittan from the European Union, (EU)
Baba Vanga was said to have told a journalist, Valentin Sidorov that Russia would become the 'lord of the world' while Europe would become a 'wasteland'.
"All will thaw, as if ice, only one remain untouched – Vladimir's glory, the glory of Russia," Daily Mail had quoted Baba Vanga as saying. She had further added, "Too much it is brought in a victim. Nobody can stop Russia."
She was quoted to have said "All will be removed by her from the way and not only will be kept but also becomes lord of the world." She had predicted the death of Princess Diana. She said she received her gift from God.