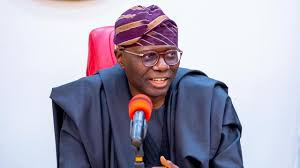 Reject old Naira notes, face prosecution Sanwo Olu warns Lagosians
By Samuel Ogunsona
The Governor of Lagos State Babajide Sanwo-Olu has asked the people of Lagos to continue using the old naira notes. He said anyone who rejects the old notes faces prosecution in the law court.
The Lagos position is coming amidst the irresponsible and illegal disregard of the Supreme Court ruling which said Nigerians can continue to use the old notes.
Many banks across Nigeria remain shut as at Wesnesday this week.
In a statement on Wednesday made available to Irohinoodua, Sanwo-Olu warned those rejecting the old notes to desist or face sanctions.
He spoke through the state Commissioner for Information and Strategy, Mr Gbenga Omotosho
He said Lagos wishes to put on record the patience and calmness of Lagosians following the controversy generated by the Naira shortage crisis.
Omotosho said "The State Government has joined the dispute at the Supreme Court, which today adjourned the hearing of the matter till February 22. When the matter first came up on February 8, the apex court said the old notes remained legal tender."
He said the position has not changed.
The State Government then warns those rejecting the old notes to desist from doing so or face prosecution.
"It is against the law to reject the old notes as doing so is contrary to the position of the Supreme Court" he said.
Governor Sanwo-Olu urges Lagosians to remain law-abiding and shun mischief makers who may exploit this temporary situation to promote their anti-people agenda. He is confident that the Judiciary will resolve all the issues around the currency shortage crisis.
To cushion the effect of the Central Bank of Nigeria (CBN) directive on the old notes, especially on the vulnerable among us, Lagos State has started the distribution of the food packs promised by the Governor. The 50% fares slash on all state transportation facilities continues, as directed by Mr Governor.