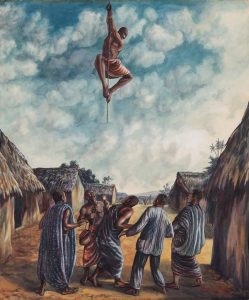 Reflections on 1760 Owo history; Ọlọwọ Àjàkà
By Akinọla Laṣekan
Àjàkà became the 20th Ọlọwọ of Ọwọ after the death of his father Ọlọwọ Ajágbúsì-Ekùn in 1760 . He reigned for 21 years until his death in 1781.
He was a ruthless and blood-thirsty man. Ọwọ people feared him to the extent that his younger brother, Adedipẹ Eléwù-Okùn was chosen secretly to succeed their father.
However, on the day Adedipẹ Eléwù-Okùn was to be crowned, Àjàkà found out and raced to Ugbó-Ọgwàta where the installation rites was to be performed by the Uloro kingmakers.
On hearing that Àjàkà was on his way, Adedipẹ Eléwù-Okùn fled and Àjàkà was crowned by the terrified kingmakers. Àjàkà was 36 years old when he became Ọlọwọ of Ọwọ.
According to Ọwọ oral tradition, Àjàkà waged over 400 wars and lost only once at Ipesi – his place of birth. In Ọwọ tradition, it is a taboo to wage war against one's place of birth and where one's placenta is buried.
According to one legend, Àjàkà turned into a rock at Ipesi