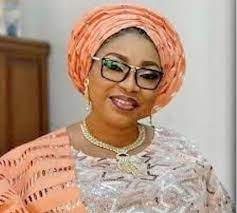 Read about the Yoruba Woman, Folasade Makinwa who became Senator in Adamawa State
Not many people are aware that Adamawa State, dominated by the Fulani ruling elite and produced a Yoruba woman who became a Senator and represented the people of Adamawa State for four years. Here second term was almost secured as she lost with a narrow margin. Senator Grace Folashade-Makinwa Bent contested on the platform of the Peoples Democratic Party, (PDP) and defeated all the male aspirants dusting the tape in 2007.
She was in the Senate until 2011. She represented Adamawa South where here husband comes from. Folasade is a full blown Yoruba woman who was born and grew up in Yoruba land. She attended Ilesa Grammar School where she graduated in 1978. Later she studied at the University of Calabar. She was a very active member of the students movement. She read English and Lirerary Studies in 1998. She also bagged MSC in Political Science and International Relations in 2003. She also obtained Phd in Public Adminstation from Indiana State University in the United States.
She began here political activism at Ilesa Grammar School and was reputed to be fierce and dogged in her pursuit of ideas. She was very active in the National  Association of Nigerian Students, (NANS) at the University of Calabar in Cross Rivers State. Folasade later joined the Nigerian Television Authority, (NTA) where she became Assistant Producer in NTA Kaduna.
She also was Managing Director, Jack Ventures Nigeria. She later became the Special Adviser to former National Chairman of the PDP, Audu Ogbeh.
While in the Senate, she was very active and became the Chairman, Senate Committee on Environment. She was in the Senate until 2011 when she sought a rerun.  She competed in the PDP primaries to be the April 2011 candidate for Adamawa South Senator, but lost to Ahmed Hassan Barata who scored 738 votes while Folasade scored 406 votes, still a show of strength in a male dominated dominion.