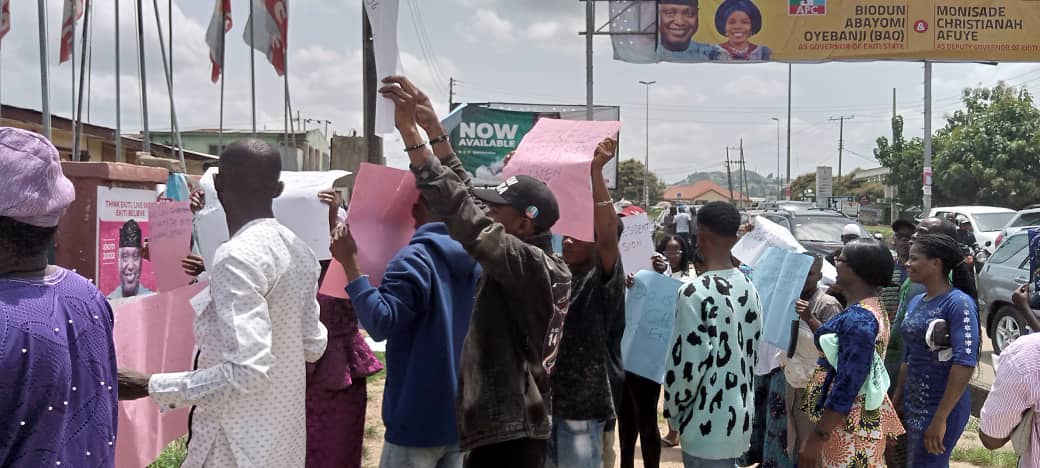 Protesters call on Ekiti APC leaders to consider Ikole for Senate seat
By Abiodun Ajayi
Some protesters from five local government in Ekiti North Senatorial District has asked the All Progressives Congress, (APC) leadership in Ekiti to consider the zone for the next Senatorial slot.
The position is currently being occupied by Senator Bunmi Adetunmbi who had already spent two terms.
The All Progressives Congress, (APC) members from Ikole Local Government area of Ekiti State appealed to the leaders of the party to pick the next candidate for the Ekiti North Senatorial District Election from the area.
The protesters said they have confidence in the leadership of the State Governor, Dr Kayode Fayemi adding that the whole world is waiting for him to emerge as the next President of Nigeria.
"We are not protesting against the quality of APC leadership in Ekiti. We are only calling for justice. Since 1999, Ikole has never produced the Senator for the district. We are calling on the leadership to allow Ikole to produce the next Senator" Chief Benjamin Adegbite one of the leaders said at the rally.
The protesters made the appeal during a peaceful protest to the APC secretariat at Ajilosun area of Ado Ekiti.
The Party members armed with different placards expressed their support for the aspiration of the Governorship candidate of the party, Mr Biodun Oyebanji, as well as the presidential ambition of Governor Kayode Fayemi.
The protesters said they hoped that Ikole Local government area would be considered to fly the flag of the party for Senatorial District Election.
Speaking on their behalf Mr Sunday Awogbemi alleged that the area had been marginalized in the past, expressing that since the return of democracy rule no one from the area had represented Ekiti North Senatorial District at the National Assembly.
Also corroborating, Mr Francis Ojo said Ikole Local government had quality and Qualified sons and daughters who could deliver if given the mandate.
He urged the party executive to look towards the direction of Ikole to ensure fairness and equity in the distribution of positions.