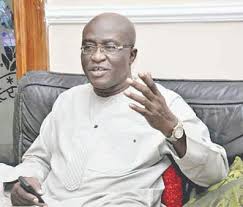 Prominent Ijaw rights activist, Tony Uranta is dead
By Doris Ebiri
A prominent human rights activist, Mr Tony Uranta is dead.
Uranta passed on this afternoon at exactly 1.32pm.
Irohinoodua was informed that he had fought ailments for more than three years before he succumbed to death this Wednesday afternoon.
"Tony has gone home to rest ooooo, after a long medical battle for about 24months.
He fought a good fight while here, but we believe God needs him now, to continue from the other side, and to perhaps conquer on his strong believe on Justice, Equity, Peace and Unity for Nigeria.
Burial will be announced by family," a family source states.
Uranta fought for self determination not just for his Ijaw ethnic group but for ethnic minorities in Nigeria.
He will be remembered for his honesty, hardwork, dedication and uprightness.
He had fought different kinds of medical afflictions before his last hours on earth.
Uranta was raised by his mother. He grew up to face the live the terrific environmental degradation in the Niger Delta where he hailed from an experience that was to later groomed him for his iconic role in fighting for environmental justice.
In one of his interviews he said "My mother single handedly brought me up because my father was trapped in the Biafra war. I enjoyed those years because I had some freedom of not living in Ikoyi. I lived in Surulere where the likes of Adebayos, Dangote among others were neighbours."
He had this to say on his growing up "The first lesson I learnt was integrity. To  my parents, integrity had to do with honesty. Secondly, you must be willing to be yourself, speak for what is right and be courageous enough to do so. You must be able to speak up for yourself and not expect someone else to speak for you. Above all, you must have the fear of God.
My parents were Anglican and Presbyterians and none of them forced the other one to join the other's church. But the Presbyterians Scotish ethics were imparted in us."
On his ailment he said " Let me shock you a little, I was diagnosed as being HIV positive. I was not diagnosed in one centre. I had  confirmatory tests from seven centres between 90s and early 2000. I lived with those ailments between 1999 to 2004 with all the symptoms of being HIV positive. I had all the physical proofs; physical and chemical symptoms.
At one time, I was the spokesperson for people  living with HIV and AIDS. But today, I have been tested in those places all over again and reported negative.
No preacher laid hands on me. I had an epiphany in one day and I thought I was going to die and I  heard a voice; God said to me, "ÿou are going to die but you wouldn't die hating God". I hated God at that time. And the reason was because I couldn't figure out why I had to suffer such ailments.
I had stopped going to church for years until I woke up one day  and a voice ministered to me to go to church. I didn't know which church but I saw myself in  House on the Rock. I was diagnosed in seven different centres including US Embassy centre, and I was diagnosed positive and since 2004, I have also been tested in those centres and confirmed as being negative."
On his medical battles he said "I had cancer of the colon which is one of those cancers that is rarely detected. Since I was freed from the incurable disease, (HIV) (arun ti o gboogun), I have become very conscious about my health."