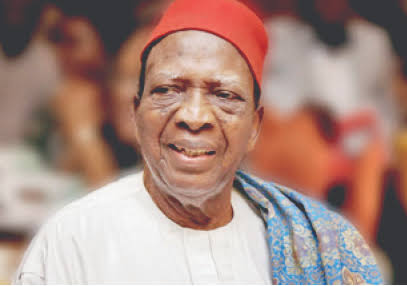 By Chuka Ike
Prominent constitutional lawyer, Prof Ben Nwabueze is dead
The lawyer died in his private home on Monday. He was aged 92. Family sources said he died in his sleep. Official statement is expected from his family before sundown Monday.
Nwabueze was outstanding for his works on constitutional reforms and had participated in various constitutional conferences. Many see him as one of the best Constitutional lawyers Nigeria has produced.
He was respected for his knowledge, wisdom and legal prowess.
While his contributions to constitutional reforms in Nigeria are acknowledged, some blame him for framing Decree 34 that unilaterally forced Nigeria into one entity having demolished the regional structure that existed until 1966
He was also a support of Peoples Democratic Party, PDP Presidential aspirant in the February 25 election.
After visiting him, Atiku had said "Professor Ben Nwabueze is a patriot and Nigeria's foremost constitutional lawyer. In a very emotional meeting in Enugu, he reminded me of the unfinished Nigerian Project. I assure him, and every Nigerian, that I'll keep my word," Abubakar wrote.
Nwabueze was later quoted to have said that he would not die until Atiku became the President of Nigeria.