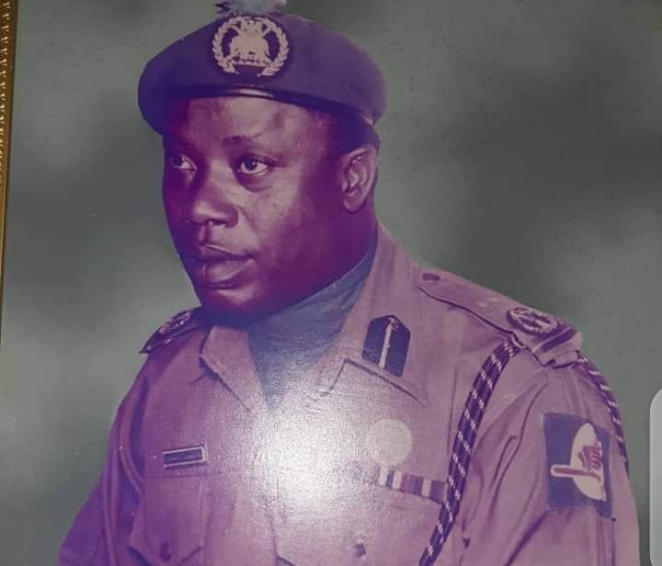 Police Officer who arrested notorious armed robber, Lawreance Anini is dead
By Kunle Ehanire
The brave police officer who arrested notorious armed robber Lawrence Anini is dead.
Kayode Uaneroro died on Saturday.
He was famous for resolving the puzzle surrounding the difficulty in arresting Anini who charmed Nigeria for months following his robbery spree in now Edo State where he was born..
Anini was believed to be endowed with magic powers after excepting from every robbery operation setting the country on the edge of fear and trembling.
Kayode was the Commandant at the Mopol training school at Gwoza from where he was invited to lead the operations after a string of failed operations by the police to nab Anini.
He led a 10-man team that worked for weeks, gathering intelligence on Anini until he was traced into a private apartment where Kayode personally shot him on his feet before he arrested the crook.
Kayode who holds a black belt in Karate proved to be extraordinary in ensuring the arrest of the armed robbery kingpin. Kayode led an excellent life of honesty and dedication but was less recognised by the country he served diligently.
Kayode later read law after which he opened his Chambers in Lagos.
Lawrence Nomanyakpon Anini  was born in 1960. He was executed on March 29, 1987).
He was a criminal terrorised Benin City in the 1980s along with his soul mate Monday Osunbor.
Kayode arrested Anini on December 3, 1986.
He had trailed him to a house Benin City between 2nd and 3rd East Circular Road.
Anini was with his girlfriend said to have given him up to the police.
Kayode shot Anini in the leg. He was transferred to a military hospital.
Days after he was shot, he was amputated on another leg. Several days after he was shot in the leg, one of his legs was amputated.[
The then Head of State Ibrahim Babangida, demanded a speedy trial. Anini was convicted and on on March 29, 1987 he was shot dead