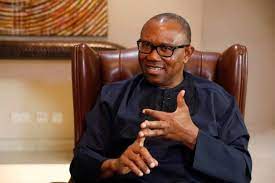 Peter Obi may win 2023 Presidential election, says new poll
By Joseph Ologeh
The candidate of the Labour Party, (LP) Mr Peter Obi may win the Presidential election slated for February 25, 2023, a new opinion poll released today has stated.
This is the third poll that has favoured the LP candidate in an election where he is underrated by the two main political parties, the All Progressives Congress, APC and the Peoples Democratic Party, PDP.
The new poll indicated Obi's leas followed by the APC Presidential candidate, Asiwaju Ahmed Tinubu
The poll was commissioned by ANAP Foundation and was conducted nationwide.
The results were made available to Irohinoodua on Thursday.
Observers think the result my reflection the revolutionary pull of the number of people from the South East that have collected their PVCs and the lull of voters in the South West where disconnection between the political class and the masses, the cultural, artisan and social groups is growing daily.
Greater percentage of respondents said they would vote for Mr Obi with Bola Tinubu of the All Progressives Congress (APC) and Atiku Abubakar of the Peoples Democratic Party (PDP) coming behind.
The New Nigeria Peoples Party, NNPP led by Rabiu Kwankwazo came a distant fourth.
The results indicated 23 per cent of voters support Mr Obi to win the presidential election.
13 per cent will vote for Mr Tinubu who came second while Atiku Abubakar came third with 10 per.
Mr Kwankwaso had 2.
The poll managers stated "Mr Peter Obi's 10 per cent point lead at this stage is significant, but not sufficient to separate him from a leading pack of candidates scoring 13 per cent, 10 per cent and 2 per cent,"
Mr Atedo Peterside who is the President of ANAP Foundation said
"Undecided voters and those who prefer not to reveal their preferred candidate add up to a whopping 29 per cent and 23 per cent respectively. The gender split of undecided voters shows that 38 per cent of women are undecided versus 21 per cent of male voters."
According to the poll, the North East has the highest voters card collection in December with 90, while it is 89 per cent in the South West and 88 per cent in the South-South. The lowest voter registration percentages were recorded in the North Central with 87 per cent; North West with 86; and the South East with 84 per cent, the report said.