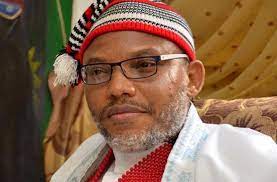 Pastor Tunde Bakare condemns FG arrest of Kanu, threat to Igboho
Rules out future meeting with Presidency
By Kole Abiodun
The Federal Government arrest of leader of the Indigenous Peoples of Biafra, (IPOB) and plans to extradite Yoruba self determination activist, Chief Sunday Adeyemo (Igboho) was on Sunday condemned by Pastor Tunde Bakare who was the former Vice Presidential candidate of President Mohammadu Buhari.
At the Citadel Global Community Church, (CGCC) Pastor Bakare said while he opposes violence, he realizes that the agitation of the two was propelled by objective circumstances in Nigeria. "I'm not interested in meeting you any longer; no more visits. Now, it is war, because Nigeria must be set free," Bakare said.
On the arrest of Kanu and Igboho, Bakare said " I don't support any act of violence, taking up arms against the country and killing people. Those are in the realm of criminality and anybody doing that must be brought to book.'
He said further "We must realize that what has given rise to the agitation is lack of justice and equity. When there is justice, when there is equity, agitation will die down." He said Kanu and Igboho are not the problems of the country adding that one of the immediate solutions was the country to restructure.
He argued that the Nigerian authority has replaced the search for justice with brazen abuse of human rights. Bakare said "Winning an election is a different thing, doing the right thing is another. No one must behave as if Nigeria is a personal property. Nigeria must be set free and any obstruction along the way must be removed, it must get out of the way."
He said further "Have you forgotten you vowed never to contest again, I said 'not so'. I showed you how you can win the next election and you agreed to run and you won. I was not considering myself but concerned about how Nigeria can become great"
He expressed deep concern about the violence that seem to have engulfed some parts of the country. "I dare you to come after me since that is the usual style now. You might have done it to others; you are about to learn a lesson if you touch me," said the cleric, who did not name the government official.
"If you know what I have done in secret, bring it to the open. I dare you to come after me if you can. I worked with you; I worked for you; I supported you to get there (where you are). When I talk now, I now have a smelly mouth.