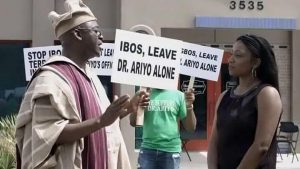 Few days after youths in Lagos took to the streets in defence of agelong values, hundreds of Yoruba people in Dallas, US today are protesting in a show of solidarity with Dr Adeniran Ariyo who some Igbo accused of undermining their ethnic interest.
Dr Ariyo, a cardiologist is under mainly ethnic driven pressure for allegedly making statements that supported the position of the Oba of Lagos, Oba Rilwan Akiolu to the extent that Igbos in Lagos who undermine the city's tradition should prepare for the wrath of the sea goddess. The position of the Oba was made known prior the March 28 election that saw the emergence of President Mohammadu Buhari as Nigeria's new leader, defeating Dr Goodluck Jonathan from the oil rich region whose candidacy enjoyed the full support of the Igbo.
The Igbo group has obtained a 60-day permit to demonstrate in the vast office of the Dallas doctor and had written protest letters to health authorities that his certificate be revoked.
Nigeria is traditionally a weak country plagued by deep ethnic rivalry among the country's over 300 nationalities brought together in 1914 through British colonial fiat. The enmity has been fueled by corrupt leaders who have failed to find a common ground for the country's population of poor and hungry lot. The country has lately been ravaged by Islamic uprising in the North East that has led to the death of over 7,000 civilians since 2009.

 

Mid last week, several pan Yoruba groups staged protests at the office of Emzor, a pharmaceutical company owned by an Igbo businessman. The rally called on Igbo to respect Yoruba culture of be 'kicked out' of Lagos
"We are in Dallas today to show support for Dr Adeniran Ariyo who has faced undue assault from some Igbo elements", an official of Egbe Omo Yoruba in North America told Irohinodua this afternoon.
The Dallas rally which began today has received solidarity messages from several pan Yoruba groups at the home front.
In a solidarity message by the Pan Yoruba groups signed by Chief Olubayo Oke stated "

 

In this hate drive, this set of humans have sought puerile excuses to further their parochial and ego driven interests in their well known culture of bringing down a major role figure of the stock they love to hate, the Yoruba who they perceive as their main rival in Nigerian bitter history of ethnic rivalry.
Dr Adeniran Ariyo is being accused of making statements in support of the Oba of Lagos, Oba Rilwan Akiola who in content and form, had admonished Igbos to respect the culture of their host in Lagos or face the wrath of the sea goddess.

 

Dr Ariyo's original statement has been watered down consistently to suit the base instinct of these view Igbo elements who we understand are waging a phantom protest that has since been exposed as profit driven and being sponsored by an Igbo business man, Mr Tony Elumelu."