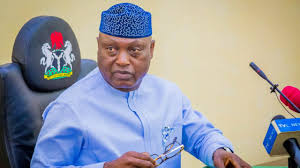 In his usual diligent and meticulous tradition of transforming Ekiti State to an industrial hub, the Governor of Ekiti State, Mr Biodun Oyebanji has approved the appointment of nine members of the Board of Ekiti State Development and Investment Promotion Agency (EKDIPA).
The Board is made up of some of the finest entrepreneurs in Ekiti State.
The nomination is in line with the provision of Section 7 of the EKDIPA Law, 2019, which provides for a Board to be chaired by the Governor; and a Vice Chairman to be appointed by the Governor from the private sector.
A statement signed by the Special Adviser, (Media) to the Governor, Mr Yinka Oyebode and made available to Irohinoodua said
the law also stipulates that membership should include two serving commissioners whose portfolios are connected to development and investments; and six other persons, two of whom shall be women, to be chosen from various professional backgrounds.
The Board shall, among other roles, promote policies and transparent procedures that will enable the Government to work with potential investors and business partners to develop the natural resources base and assets of the State. It shall also develop appropriate institutional and regulatory framework for investment promotion and facilitation in the state.
The nominees are:
1.​H.E. Biodun Oyebanji – Chairman
2.​Chief Kelvin Dele Oye- Vice Chairman
3.​Ms. Adedoyin Ayobami Adelabu – Member
4.​Engr. Alaba Owoyemi – Member
5.​Mrs Olatokunbo Fagbemi – Member
6.​Mr Emmanuel Akinwunmi – Member
7.​Dr Tope Aroge – Member
8.​Mrs Tayo Adeola – Member
9.​Mr. Akintunde Oyebode – Member
The appointments take immediate effect.
Chief Kelvin Dele Oye:
An accomplished Entrepreneur and Legal Practitioner, Chief Oye is a major player in the Nigeria's organised private sector with extensive investments in real estate, oil and gas and digital economy. The Obafemi Awolowo University, Ile-Ife Law Graduate is currently the National President, Nigerian Association of Chambers of Commerce and Industry, Mines and Agriculture (NACCIMA). He also chairs the Nigeria-Turkey Business Council and is a Governing Council member of the Standard Organisation of Nigeria (SON).
Ms. Adedoyin Ayobami Adelabu:
A Chartered Accountant with a wealth of experience in the oil and gas industry had her Bachelor of Science degree in Accounting from Obafemi Awolowo University, Ile- Ife and a Master of Business Administration from the University of Cambridge, United Kingdom. She is also a Fellow of the Institute of Chartered Accountants of Nigeria (ICAN).
She has had stints with Shell Petroleum Development Company and ExxonMobil where she held different positions as Accountant, Tax Specialist and Strategic Planning Advisor. She rose to the position of Senior Business Developer in the Commercial department and later served as General Manager Business and Government Relations, before she resigned from ExxonMobil early this year to set up a management consultancy, 3 Streams Synergy.
Engr Alaba Owoyemi:
A notable business leader and entrepreneur with impressive record of delivering business goals and objectives through exceptional execution of innovative business strategies.
A graduate of Electrical and Electronics Engineering and alumus of London Business School, Engr Owoyemi has worked, managed and consulted for a lot of A-listed companies in the utility, oil and gas and industrial sectors. He is the Executive Chairman of A-Bamisil International Ltd, an Agro based company and Group Executive Director, Commercial, Business Development and Technology of Century Group- an energy infrastructure investment company.
Mrs Olatokunbo Fagbemi:
A former Group Managing Director for NAHCO Plc, Mrs Fagbemi is a reputable entrepreneur with track record of driving business transformation efforts that deliver performance, profitability and stakeholder value. She possesses a unique blend of commercial and operational management and board experience spanning consulting, aviation, maritime and logistics industries.
Fagbemi is currently a director of Spring Fountain with responsibility for maintaining strategic relationships with international partner brands. She holds a Master's degree in Business Administration from Instituto de Studios Superiores de la Empresa (IESE), Spain; with expertise in developing international business relationships. She is an Airports Council international (ACI) and International Civil Aviation Organisation (ICAO), Certified International Airport Professionals (IAP).
Mr Emmanuel Akinwunmi:
A multi-talented banking, investment, business and international development professional with extensive experience in three continents – Africa, Europe and North America. He has over 38 years cognate experience providing services and leadership in various sectors- manufacturing. Investment, merchant banking, mortgage banking, financial consultancy, business advisory, international development and resource mobilisation.
The Ado-Ekiti born professional has had stints with Africa Development Bank (AfDB), as Portfolio Manager and Principal Private Sector Development Officer. He also undertook projects monitoring and evaluation work for the Banking consultancy role in no fewer than 11 African countries, including Bostwana, Ghana, Egypt, Kenya and Zambia. A graduate of Accounting from Obafemi Awolowo University, Ile –Ife, Emmanuel is a fellow of the Chartered Institute of Accountants of Nigeria, Institute of Chartered Secretaries Administrators of UK (ACIS) and Charter Professional Accountant of Canada (CPA), among other professional qualifications and memberships.
Dr Tope Aroge:
The Managing Director/CEO of Arog Bio Allied Agro Services Limited (ABAAS Ltd), a major player in the Agribusiness sector, which owns and runs a 20 ton per day capacity high quality cassava flour (HQCF) plant on Esun-Ipao Road, in Ikole Local Government Area of the State.
Dr Aroge is a 2006 graduate of Medicine and Surgery from the University of Ilorin, Kwara State, before veering into Agribusiness. He is an executive Council member of Industrial Cassava Stakeholders Association of Nigeria and represented the Federal Government at a JICA sponsored specialised training in agricultural cooperatives in Obihiro, Hokkaido, Japan in 2016. A multiple award winner in agribusiness, Dr Aroge is a member of the governing council of Ekiti State Polytechnic, Isan Ekiti.
Mrs Tayo Adeola:
Currently the Commissioner for Investment, Trade and Industry in Ekiti State, Mrs Adeola came into public service as a Special Adviser to the Governor on Investment, Trade and Industry.
Adeola is an investment banker with over 31 years cognate experience. She began her career with the ICON Limited (Merchant bankers) in 1991 and join Consolidated Discounts Limited in 1996 as a pioneer security dealer and managed assets in excess of $1,2billion. She later served as Managing Director of Capital Express Assets and Trust Limited and was Vice President, bank of America Merrill Lynch International where she managed assets in excess of $50 billion.
Mr. Akintunde Oyebode:
Currently Ekiti State Commissioner for Finance, a position he is manning for a second consecutive term. He had previously served as Special Adviser to the Governor on Investment, Trade and Innovation.
Oyebode is a trained Economist who is passionate about sustainable development, investment and youth employment. He started his career as a Research Assistant at the Lagos Business School, before going into the banking industry where he spent over a decade in various roles with First City Monument Bank (FCMB) and Stanbic IBTC Bank, where he was Head of SME Banking. The 2002 Economics graduate of University of Lagos, Akoka, was the pioneer Executive Secretary of the Lagos State Employment Trust Fund (LSETF), established to provide financial support to residents of Lagos State, for job and wealth creation and to tackle unemployment.
The Biodun Abayomi Oyebanji administration is committed to working with individuals, corporate organisations and institutions in the bid to ensure growth and development in line with the shared prosperity mantra of the administration.