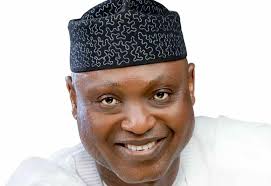 Oyebanji lauds Ekiti born retired World Bank Official
By Samuel Ogunsona
Ekiti State Governor, Mr Biodun Oyebanji, has lauded the achievements and impact of Ekiti State born Head of Sustainable Procurement, Environmental and Social Standards Enhancement Project of World Bank in Nigeria, Liberia and Ghana, Chief Bayo Awosemusi.
Oyebanji who spoke at the retirement ceremony at St. Mary's Catholic Church, Karu, Abuja, said the amazing impact of Awosemusi in the state especially the facilitation of World Bank assisted Projects to the benefits of the State.
He said," Chief Bayo Awosemusi has being a blessing to us as a state and as people, he is a global citizen and blessing to Nigeria and Ekiti State has benefitted alot from him"
"We are proud that he is from Ekiti State and I wish him happy retirement. And I'm still sure that in other capacity he will still serve the state
According to Oyebanji "Anywhere we find ourselves is to benefit God and humanity I call on all indigenes of Ekiti wherever they should just be of help to humanity and they should not forget Ekiti State".
The Catholic Bishop of Ekiti Diocese, Rev Felix Ajakaye, said the 28 years of Chief Bayo, as World Bank official was a success.
Bishop Ajakaye said ''Chief Awosemusi served without blemish, while adding that he exhibited a true Ekiti characters in his dealings.''
The Ekiti born Celebrant, Chief Bayo Awosemusi said his success was through God's grace and thanked everyone for their prayers and support.