Osinbajo's convoy halt trip to console accident victims on way to Owo for condolence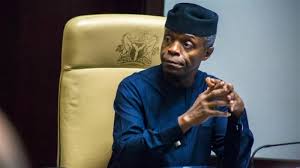 By Samuel Ogunsona
The Vice President Yemi Osinbajo was not involved in any road mishap on Monday on his way to Owo, the historic Yoruba city currently grieving over attacks by Terrorists.
In a statement by his media office made available to Irohinoodua, Mr Richard Akinnola said the Vice President was not involved in any accident except that he saw an accident scene after which he stopped to attend to the victims.
Akinnola said "This is to notify the general public that Vice President Yemi Osinbajo and the leading APC presidential aspirant, was not involved in any accident this morning" Akinnola said.
He said the Vice President Osinbajo was on his way to Owo, Ondo state over the dastardly terrorist attack of yesterday when his convoy met an accident scene on airport road, Abuja.
Akinnola said  the Vice President mmediately stopped his convoy and asked his ambulance to take the victims to the hospital and report to him on the state of the accident victims while he immediately proceeded to board his flight to Akure.