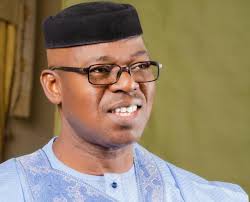 Oni: Between Service, Ethics and Desperation for Power
By Dele Akinyemi
I am fascinated by staunchless and boundless access to civil liberties. I confess to the general principles of adult suffrage and inalieniable right of individuals to aspire to any heights of human endeavours, positive and negative. Even mundane excesses! It is allowed by nature. As we have people aspiring to be lawyers, clergy, musicians, engineers, teachers and artisans because morality and the law support them, we also have those with unquenchable thirst to be celebrated as the knights of the underworld  but which neither the law nor morality supports.
Fancies, particularly the ones propelled and sustained by innate consciousness, are always hard to control by any legal encumbrances. They can only be checked when possible. That is why terrorists and armed robbers like and ply their trades with pride, the same way our law officers hold forte in courtrooms as learned men that weild and enjoy enomous influence in the society. Nature never allows a vacuum in both negative and positive divides of life, but then law and morality co-habit to moderate human sentiments, conducts, passions and choices to safeguard the competing preferences of man to have peace.
Even though the Canon Law says "Thou shalt not steal", the truth is that in the secular prop upon which the Nigerian Law is constructed, there is nowhere in the entire hundreds of sections in the Constituion of the Federal Republic of Nigeria where it is stated that "thou shalt not steal", though the same constitution prescribes punishments for those who break the law, including stealing. Check is the word.
But the same cannot be said about morality. Morality strictly preaches moderation, fortitude, decency, uprightness, truthfulness, verity, stableness, devotion and perseverance, all of them qualities of inner personality and consciousness.
In human beings' natural environment, both the law and morality govern human conduct. The ability to marry the two often leads to mutually benefitting effects for both the society and its inhabitants.
It is in this context that I have observed the psychological make-up of the candidate of the Social Democratic Party, Asiwaju Segun Oni, who has been deploying his constitutional right to aspire to positions of authority in Nigeria, and wondered about the motivation for his emotional and political mission as he seeks to lead Ekiti State.
While no one can deny him this right, the morality of that right while seeking positions of authority seems to me a subject that should provoke debates among the moralists and sensualists that bestride the two divides of the spiritual essence of life itself.
Of course I will be the last person to accuse Asiwaju Segun Oni of stealing, fact is that the engineer is renowned for desperate instincts in pursuit of his goals, the same spirit that seizes and drives men in hoods in the urge to illegally convert what does not belong to them.
Desperation is thought to be a noxious moral force that provokes a reckless and extreme desire to achieve a goal. A short assessment of the SDP candidate shows that he does not fall short of that description and that differentiates him from the generally acceptable and accepted moral code that should propel partisans to leadership positions for service to the people.
Leadership should be about vision and mission. A true missioner perseveres. He shows devotion to his vision. He is stable. He has a mission based on principle. In the Nigerian political context, a true missioner glues to one of the two ideological divides in Nigerian politics; to wit, capitalist or socialist orientation and consciousness. President Muhammadu Buhari did this in his proletariat Congress for Progressive Change (CPC), and  even in the All Nigeria People's Party (ANPP), another pro-masses political assemblage, that co-habited with the Alliance For Democracy (AD) to later form the All Progressives Congress (APC), all sharing the same political ideology as espoused by their founding leaders.
Buhari pursued his vision with his mission trained at socialist principle in form and content. Then a little bit of spirituality. A man that always makes it plain that only God gives power, placed his hope on that assumption or belief. Even though a soldier,  Buhari remained with his political ideology without firing a shot from his barreta until God said; 'Muhammadu, mount the throne for your belief and tenacity of purpose'.
Conversely, the same cannot be said about my brother, Asiwaju Segun Oni, who has traversed many political groupings with varying ideologies, such that leaves close observers to ask: What does Oni want?
Yes, that is the question: what does Oni really want? In Oni's political trajectory, he has traversed both the progressive and conservative hues and canvases, including other camps that have no definitions, all in pursuit of one political goal to be elected governor of Ekiti State. He does not want any other political position. The goal is governorship position to berth a life ambition.
Unfortunately, the strategy to achieve that is an heterogeneous mating that pollutes the spiritual essence of the mission. Yet, the moral impulse that ought to be a generally accepted  buffer to moderate the mission always suffers spiritual spasms; to wit, a goal without God's approval.
In desperation for power to lead Ekiti State, Asiwaju had changed parties seven times and seven times he failed. Unlike Buhari, the spirituality of Oni's mission was sadly lacking in spiritual essence of his strategy and conduct, as he hopped from one partisan bed to the other that all ended in either miscarriage or political autism at birth.
He started his ambition in 1999 with the People's Democratic  Party (PDP) where his nemesis, Ayo Fayose, sent thugs to beat him black and blue in the late Chief Ojo Falegan's House in Ado-Ekiti where members of his Majeobaje Group in PDP were holding a meeting. Shortly afterwards in 2005  he moved to ACD, and eventually AC. When Fayose was impeached in 2006, he moved back to PDP again to contest the governorship. He lost the primary but got the ticket by manipulation from third position, unlawfully and immorally displacing the men in first and second positions; Yinka Akerele and Prof Adesegun Ojo. In the 2007 election that followed, he lost the election but the law was mindlessly manipulated in his favour to continue enjoying the mandate of another man, Dr Kayode Fayemi, like he did to both Akerele and Ojo.
For three years on a tainted seat of authority savouring his life ambition,  it would seem as if the Nigerian legal code was a scroll of nightmares until the Josephs in the Nigerian Bar and Bench rang the bell to interpret the nightmarish conditions of that epoch, calling a halt to the daylight robbery that the purported 2007 election victory represented.
The Appeal Court in Ilorin finally came to the rescue of the Nigerian Law on October 15, 2010 and so Asiwaju Oni was told by the court to surrender the mandate that the Nigerian state captured for him at gunpoint after several people lost their lives or limbs to desperation to clinch power during which the sun set for Sadiq Ahmed's life in one gusty afternoon, closing his life page on the alter of maniacal power chase  even as guns boomed in Ido-Ekiti where Segun Ajayi, an Ido-Ekiti cobler, lost his leg to the staccato of bullets that replaced ballots in that thoughtless hunt for power.
Not yet satisfied, he desperately needed a desperate short-cut to what he desperately needed until a more desperate gang of criminals got him pants down. This time Oni allegedly procured a purported MTN calls log, which, he alleged, detailed APC leaders' text messages to the judges to influence the election matter in court in Fayemi's favour.
The accused judges swore their innocence and called IT experts to the NJC probe panel to demonstrate how an innocent man's telephone number can be cloned by crooks to send incriminating messages to another man. These IT experts demonstrated this to the shock and awe of the jurists at the probe session. Earlier, MTN chiefs had denied authorship of the calls log, calling it a forgery. At the end, it was discovered that 419 boys also benefitted from the desperation to convert the property of another man.
That seemed the end of the dream, but that was never to be. After a long absence from the political turf, Oni reappeared again to join APC and was made the National Deputy Chairman (South, comprising 17 states). Fayemi was pivotal to making Oni secure that plum opportunity. But for him, presiding over 17 states in the South was too demeaning to his political stature, desires and dreams: he wanted Ekiti governorship trophy with the red pen to boot.
Against political realities on ground and running against common sense, Oni again launched another desperate bid that ended in fiasco, and this time obtaining a patently illegal document from his erstwhile enemy in the name of Fayose's White Paper through which he hoped to topple Fayemi, a member of his own party, and chase him away from APC, which Fayemi built with his money  and sweats, to enable him (Oni) achieve a life ambition to be governor by hook and crook until the courts again came to Fayemi's rescue.
When he failed to get the governorship ticket in 2018, he went back to PDP just for the ticket again but also failed, as Fayose again showed his ruthless teeth that snapped Oni completely from PDP. He has now berthed at SDP with the totem of a famished horse gasping for breath in a breathless desire to be governor.
One issue that baffles me to no end is how a politician that does not control the structures of a party will be day-dreaming to use the structures he does not control to climb to power. Fayose had taught Oni several lessons on this simple logic in political control and influence. Fayemi taught him too. But desperation is often an aphrodisiac that stretches desires beyond the limits of abilities. That is why a man who does not control party structures and renowned for anti-worker principle and conduct will still rely on the structures he does not control and the workers he had caused pains in the past as the veritable vehicles through which he hopes to succeed in electoral contests.
For the benefit of hindsight, it would be recalled that Oni refused to sign the minimum wage into law for the enjoyment of workers when he forced himself to power in 2007 over argument that he had no money to pay. The same way he hired Captain Consult to sack 2,000 local government workers for the same reason of "no money" at the time billions of naira in legal fees were an easy raise for him to sustain a mandate theft between 2007 and 2010 in courts. It took the understanding and passion of the then Acting Governor, Tunji Odeyemi, to sign the minimum wage into law for workers to enjoy their benefits without borrowing.
The latest bus stop is the SDP, the orphan party that has no structure and single councillor  even as the very fountain of the party is being put to question recently by the founding father of the party in coma, Chief Olu Falae, who said those parading themselves as officials of SDP had no legal grounds and status to lay claim to their positions, arguing that the apex body of the party had stopped to exist long time ago without any move to sustain its legal existence through congresses and conventions.
Even at that, Oni stands weak in policy appeal as little or nothing is known about his manifesto to the people in general and workers in particular, who he says he relies upon for victory; the same workers that climbed the mountain tops in "white fasting" spiritual engagements between 2007 and 2010, praying to God to remove the governorship crown from Oni's head. You would now ask what has transpired in Oni's private conduct and political orientation between 2010 when Ekiti people called for his head and now that has transformed him from workers' haters to become the darling of Ekiti workers and people in general?
Now that desperation for power has turned our brother to a nomadic politician without policy compass for development, then a legitimate question on his foray into politics will suffice: what exactly does my brother Oni want?
Akinyemi wrote from Ijero-Ekiti